I've written quite a few blog posts already about my trip to Paris for EuroIA, including:
This one is a bit of a round-up of some of the bits and pieces that didn't really merit an entire blog post all of their own, but which I nevertheless found interesting.
UX Basis
I had a great time chatting to James Kelway, and got to see the physical manifestation of UX Basis - billed as 'UX in a box' from the Hello Group. It is a box-set of documentation covering all aspects of the UX process, and is beautifully presented. It looked like a useful tool to make UX concepts tangible to clients, and there is a presentation about it on Slideshare.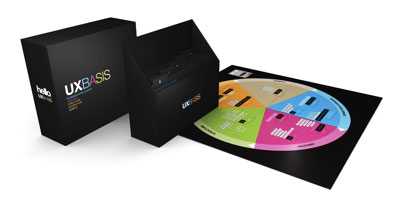 James has subsequently written a very thoughtful blogpost about what he perceived to be some of the failings of the conference.
Daleks, but no BBC at EuroIA
I was thrilled to see Daleks invading EuroIA.
Not literally of course, but up on the big screen during an intriguing talk by Hendrik Sommerfeldt.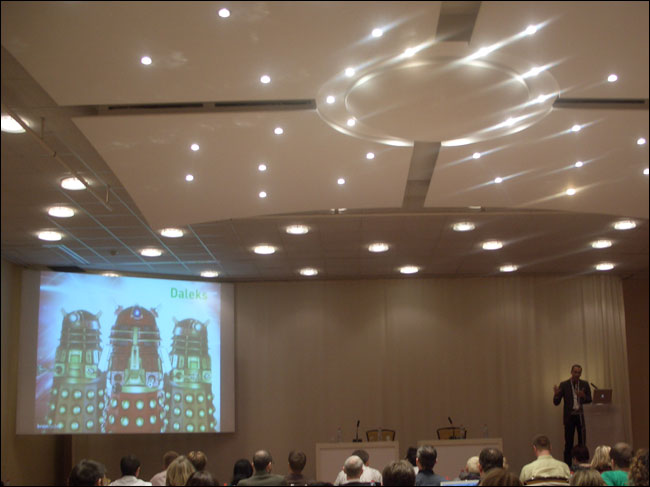 He used them in his talk about working with Korean company Samsung to illustrate that there are cultural norms and heritage which struggle to cross borders in Europe. It really is quite astonishing to be a British person in a room full of adults of a broadly similar age, 90% of whom don't recognise a Dalek at all.
Although presumably not as perplexing as it is to be one of those 90% and told that the pepperpot with the sink plunger you are looking at is terrifying.
It was one of only two references I noticed to the BBC. Pete Boersma showed the international version of the bbc.co.uk homepage when discussing that whilst most news sites have 'facets', facet navigation isn't a big feature of news layouts.
And that was that.
I didn't spot any of the familiar BBC faces in the audience either, which seemed like quite a retreat from the contingent that they normally send. I wasn't sure whether that represented a more frugal budget for sending people to conferences, or was evidence of a marginalisation of the UX discipline by the new management structure in 'Future media'.
"It isn't a matter of life and death"
I think that the continued delivery of easy to use, high quality news services are vital for a healthy democracy. But I always say to myself, that whilst I'm under pressure to get stuff 'right' and take professional pride in what I do, getting interface decisions right isn't literally a matter of life and death. Which is why it is always rather intimidating to meet someone, as I did in Paris, who does the interface design for wireless medical devices used by nurses in hospitals. Genuinely a matter of life and death.
Our first Greek IA
At one session in 2007, everybody had to stand up when the country they came from was called out. I'd given my address as Greece, as I was living in Crete at the time. There were huge cheers at the idea that they had their first ever EuroIA delegate from Greece. What a shattering disappointment my cockney accent was as I confessed I was just "borrowing their sunshine". So it was good this year to have lunch with a real delegate at EuroIA from Greece.
Come and visit the London IA & UX scene
It was also good to see quite a few members of our London IA group in Paris - including our Ning group and event sponsors Zebra People - and there was a strong UK representation in the speaking line-up. Matthew Solle arranged a predux workshop which peer-reviewed the talks when they were works in progress. Hopefully people found that useful.
During the traditional '5 minute madness' session that closes EuroIA, I joined in for the first time, and made the point that with London IA, the UK UPA, UX Bookclubs and so forth, we have a thriving scene of UX and IA related events in London. Anyone at EuroIA who is visiting London and wants to find out what is on whilst they are there is very welcome to join the group and browse through the events calendar, or to get in touch with myself or some of the leading figures in the community like Matthew Solle, Theba Islam, Jane Austin and Johanna Kollmann. We'd love to see you.
"Bring your second cousin and a plastic bag..."
You had to be there really...