Protest and dissent at the London Olympics: Part 4 - Drugs and sporting protest
Before London 2012, the Guardian published my book: "Keeping the Torch Burning: Terror, Protest and the Games". It is an alternative history of the Olympic Games, that focuses on the social and political events that have defined each competition. Based on a 2008 series of posts, it is supplemented with fascinating contemporary reporting from the Guardian archives. One vital chapter was missing - the chapter about the politics and dissent that took place at the 2012 London Games themselves. So here it is...
Doping
London 2012 organisers and the World Anti-Doping Agency claimed that anyone cheating at the Olympic Games would be caught. 6,250 tests were due to be carried out, and half of the athletes, including all medal winners, were due to be tested for 240 banned substances. By the end of the Games, 12 athletes had been expelled for doping irregularities.
Chinese swimmer drugs row
Ye Shiwen, the Chinese 16 year old who won gold in the individual 400m medley, aroused the suspicions of American John Leonard, executive director of the World Swimming Coaches Association. After posting a final 50m freestyle time that was quicker than Ryan Lochte, Leonard said:
"We want to be very careful about calling it doping. The one thing I will say is that history in our sport will tell you that every time we see something, and I will put quotation marks around this, 'unbelievable', history shows us that it turns out later on there was doping involved. That last 100m was reminiscent of some old East German swimmers, for people who have been around a while. It was reminiscent of the 400m individual medley by a young Irish woman in Atlanta."
Leonard said that Ye "looks like superwoman" and stated that "Any time someone has looked like superwoman in the history of our sport they have later been found guilty of doping."
In London's Evening Standard, British gold medal winning swimmer Adrian Moorhouse sprang to Ye Shiwen's defence, and was quoted as saying: "It is sour grapes. I think it's quite insulting actually. She's just in good shape. The other thing is there are a lot of people in China and actually the base of their pyramid is so wide that if they train thousands and thousands of their kids they've got more to draw on."
In their Evening Standard report, Peter Dominiczak and Nicholas Cecil also quoted Dr Chen Zhanghao, part of the Chinese medical team at several previous Olympic Games, as saying: "The Americans are very bad. They do a lot of evil. But they don't talk about themselves. America's Phelps broke seven world records. Is he normal? I suspect Phelps, but without evidence, I have to recognise we should be grounded in facts."
Later on in the Games, the 800m freestyle event was won by 15 year old American swimmer Katie Ledecky, who had appeared to have made even greater personal progress than Ye Shiwen, having shaved some twenty seconds off her personal best in the space of a few months. No American coaches cast any doubt on the legitimacy of her achievements.
Taoufik Makhloufi & Steve Cram
1,500 metres gold medal winner Taoufik Makhloufi had a torrid Games. Having been entered for both the 800m and the 1,500m, he walked in his 800m heat to ensure he did not qualify. The schedule of the Games made it very difficult to compete in both. He was duly expelled for "not trying hard enough". Having produced medical evidence that he had done so because he was "injured", he returned a couple of days later to romp to victory in the final of the 1,500m.
BBC commentator and Olympian Steve Cram was vocally suspicious of the performance: "Where on earth did he get that from? He's never done anything like that before in his career...He won it in a manner that many will find surprising … there's a slightly perplexed Seb [Coe] just wondering quite what happened there."
The author of the A Runner's Guide blog analysed the tactics of the race and concluded:
"The facts can only suggest either a phenomenal breakthrough race (in which case, expect to see him dominating middle distance running for the next four years) or another Ramzi [who was stripped of Gold in the 2008 Olympics for doping]. If it's the former, good on him, we've seen the rise of a new legend. But if the latter, not only has he stolen gold from Monzano, but he also destroyed the race in the process, flipping it on it's head so that the favourites missed out even on the minor medals. For now, I'll say "good on him". I believe in innocent until proven guilty. It was a dream race for him and he must be stoked. He taught the world's best a lesson in kicking off a reasonable paced race and has reignited Algerian middle distance running."
A level playing field?
Three gold medallists at the Games had previously served bans for drug offences - Alexandre Vinokourov (Men's Road Race Cycling), Tatyana Lysenko (Women's Hammer) and Asli Çakir Alptekin (Women's 1,500 metres). After losing to Asli Çakir Alptekin, British competitor Lisa Dobriskey said "I'll probably get into trouble for saying this, but I don't believe I'm competing on a level playing field."
Asli Çakir Alptekin served a two year ban for a doping offence which was discovered in 2004. Dobriskey has been outspoken about suspected drug usage by her opponents before.
In the year 2020...
Current drug testing regulations allow for samples to be kept and re-tested with newly developed techniques for up to eight years after they are taken. Which means we might not know the true veracity of the medals awarded at London in 2012 until after the Games in 2020. Indeed, before the 2012 Games closed, American cyclist Tyler Hamilton was stripped of the gold medal won at Athens in 2004, and one day after they finished the result of the 2012 Women's Shot Putt was changed after Nadzeya Ostapchuk of Belarus failed a test.
Sporting disputes
Sit-down protest at the fencing
South Korean fencer A Lam Shin was involved in one of the most emotional protests of the Games, when her semi-final descended into controversy. In an incident reminiscent of the infamous 1972 basketball clash between the USA & USSR, a reset clock snatched defeat from the jaws of victory. At 5-5, she was set to reach the final, but an additional unexpected second let Germany's Britta Heidemann snatch victory.
Shin was left in tears on the piste while an appeal against the decision was launched, and with her stranded in the arena awaiting the result, the bronze medal and final contests were delayed. Under the rules, if she had left the piste, she would have been deemed to have accepted the result. In the end, after 90 minutes in the centre, she had to accept the injustice, and prepare herself for the bronze medal match-up, which, despite having captured the popular support of the crowd, she lost.
Afterwards she said: "I think it's unfair. The one second was over – I should have won. The hour was really difficult, but I thought if I got a yellow card [for leaving the piste] I might not be able to fight for bronze. I'm very sorry for the spectators. They spent a lot of money and I just don't understand how this could have happened."
Self-sabotage in the badminton
The women's doubles badminton content was plunged into controversy when players were accused of trying to throw their games. The structure of the tournament was such that pairs knew a defeat would leave them in an easier section of the draw for the subsequent stages. First Yu Want & Wang Xiaoli of China and Jung Kyung-eun & Kim Ha-na fo South Korea, then Ha Jung-eun & Kim Min-jung, also of South Korea and Indonesia's Meiliana Juahari & Greysia Polii played out farcical contests where they repeatedly deliberately hit the ball into the net or missed the court. They were threatened with disqualification on court, as the crowd booed them. In the end, after the matches had finished, all eight athletes were disqualified and expelled from the Olympics.
Chinese officials were unimpressed. The state People's Daily newspaper said:
"In ruling on infringements, making accusations of poor sportsmanship and raising suspicions about a genius competitor, there are double standards that have taken aim at the Chinese team and its athletes. This unfortunately is hard to explain as inadvertent mis-steps, it might be closer to the truth to see it as deliberate attacking and interference. Though there can be different understandings of the rules of competition, the Chinese delegation nevertheless voiced its respect for the punishment. Yet some Western media still seized upon this to deliberately disparage the Chinese athletes and delegation."
These types of accusation are not a new experience for the British when running the Games. In 1948, at the conclusion of the "Austerity Games", the Manchester Guardian reported the Hungarian official news agency saying that "The Hungarian Olympic successes were obtained under difficult circumstances - after five years of war and the misery of inflation, as well as in a hostile atmosphere in London with biased judges."
The paper also quoted Yugoslavian sources in 1948 saying that many results at the Games had been arrived at "by earlier agreements or other underground methods which had nothing to do with the spirit of sport."
Team GB and the judges
Other host nations have notoriously intimidated judges and officials so that every knife-edge decision goes their way. Not so the British. Despite the security shortcomings of G4S meaning that Olympic venues were stuffed full of the military, they clearly didn't have the kind of intimidating impact that Nazi troops or the Red Army did in Berlin or Moscow. A successful appeal by Japanese gymnasts relegated the British men's team from silver medal to bronze, and huge medal hopes Victoria Pendleton and Jessica Varnish found themselves disqualified from their cycling event. Must try harder.
Next...
In the next part of my round-up of protest and dissent at the 2012 London Olympic Games, I'll be looking at commercial issues around the Games, and the impact of terrorism on security.
Read the whole "Protest and dissent at the London Olympics" series: Spectacle and television | Protests and disruption | Racism and sexism | Drugs and sporting protest | Business and security | Closing ceremony and farewell

Download the entire bonus chapter for iBooks | Kindle | PDF.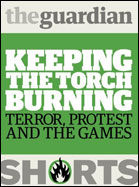 "Keeping the Torch Burning: Terror, Protest and the Games" is an alternative history of the Olympic Games, one that focuses on the social and political events that have defined each competition. Nationalism, separatism, feminism, racial equality and human rights ring loud in this Guardian Short, written by Martin Belam and uniquely told through first-hand reporting from the Guardian and Observer.
"Keeping the Torch Burning: Terror, Protest and the Games" - £2.99 on Kindle