Protest and dissent at the London Olympics: Part 6 - Closing ceremony and farewell
Before London 2012, the Guardian published my book: "Keeping the Torch Burning: Terror, Protest and the Games". It is an alternative history of the Olympic Games, that focuses on the social and political events that have defined each competition. Based on a 2008 series of posts, it is supplemented with fascinating contemporary reporting from the Guardian archives. One vital chapter was missing - the chapter about the politics and dissent that took place at the 2012 London Games themselves. So here it is...
Closing ceremony
"It was a boot in our face"
The closing ceremony of the Games was not greeted with the almost universal chorus of approval that the opening ceremony had received. One of the harshest critics of the event was Chris T-T, whose blog post "Not just shit but dangerous" reached a wide audience. Chris argued that:
"It was a numbing, disheartening disaster. The biggest floating turd we ever did whiff; reducing, demeaning and re-squishing Britain, at the very moment we'd felt shifted long-term for the better by these liberating Olympic Games. In one fattened pig of a gong-show, Gavin forced us back into clunky shackles that Boyle and Boyce briefly, tantalisingly freed us from, only a month ago. Far worse than just being bad, what unfolded was – I think – proper fucking dangerous. You know that phrase: the banality of evil."
In particular Chris criticised two specific elements that also caught my eye - where the opening ceremony had a togetherness about multiculturalism, the closing ceremony presented the Indian dancers as an exotic alien comedy interruption to Eric Idle. And after two weeks of admiring women for what they had achieved, the main showcase for women in the closing ceremony was as objectified zero size clothes-horses during the fashion section.
"What Boyle's Opening Ceremony had done was open up the doors; a box of delights; the best of what we are and what we can be in Great Britain, how we built this motherfucker. Showing us our truthful crazy-beautiful spirit and heralding in two weeks of sport in such a way that we felt something could be reclaimed and changed. We repaid him by being the best athletes, volunteers and audience in history.

What Gavin's Closing Ceremony has done is to throw Britain back in the box and slam it shut; fiercely and unquestioningly placing current hegemonies back in charge; re-infantilising and re-exoticising all that Boyle had tried to unlock for us; a revenge for the otherness and the hierachy and the celebrity-for-its-own-sake, just as these bullshit Cowellian things had seemed to be proven unneeded. It was a boot on our face. I wonder how we'll repay him"
Conspiracy
Or maybe it was all just part of a massive "psy-ops campaign", since, according to Ishtar Babilu Dingir: "They can't programme our unconscious minds if we don't watch what they put on our screens. So they needed us to be present and engaged ~ and I would say they've succeeded massively in drawing most of us in to be a part of their occult offering to the gods."
If this diagram doesn't convince you the whole Olympics was one massive Zionist freemason plot to ... erm ... do ... erm ... something ... then I don't know what will.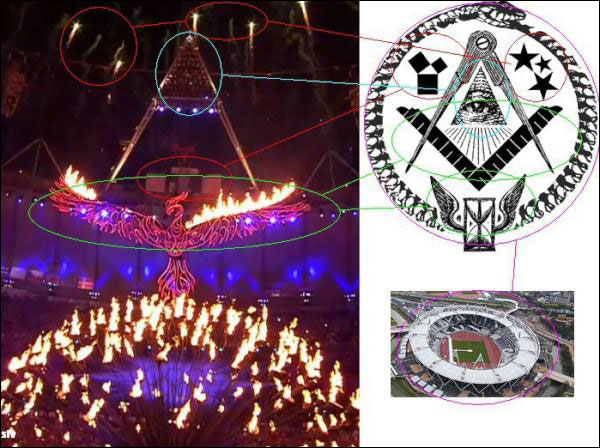 Brian May and the badgers
The most notable apparent display of protest and dissent within the closing ceremony came from Queen guitarist Brian May. He wore a jacket that featured a badger motif, which was interpreted in some quarters as a display of his opposition to the UK government policy of culling badgers in an attempt to reduce TB in cattle.
The Western Daily Press quoted Jill Grieve, head of communications of Countryside Alliance, as saying:
"Brian May's attempt to turn his performance at the Olympic closing ceremony into a political statement was inappropriate for various reasons. Whatever the rules on political campaigning at the Olympics, Mr May was in poor taste, trying to turn a celebration of our nation's greatest athletes into a sideshow for his own extreme views. Many around the world would surely have missed the point he was trying to make, but to the farmers struggling against bovine TB and fox predation, a millionaire rock star using a global sporting celebration to undermine their way of life really stuck in the craw."
However, an official spokesman for May subsequently tried to clarify the design of the jacket, stating that the jacket features other animals like a snake and a hedgehog, and claiming that:
"Brian's Jacket designed for the Olympics was in keeping with a core theme that ran through the opening ceremony. The UK is world renowned for its green countryside and the rich wildlife that inhabits it. It has inspired both books and songs internationally. Brian is well known for his passion for wildlife and it was a natural step to add these creatures to his jacket."
That famous British sense of humour
Someone was on good form at Hackney Wick station the day after the ceremony, where it was clear which artist they thought had been over-exposed and out-stayed their welcome during the closing ceremony.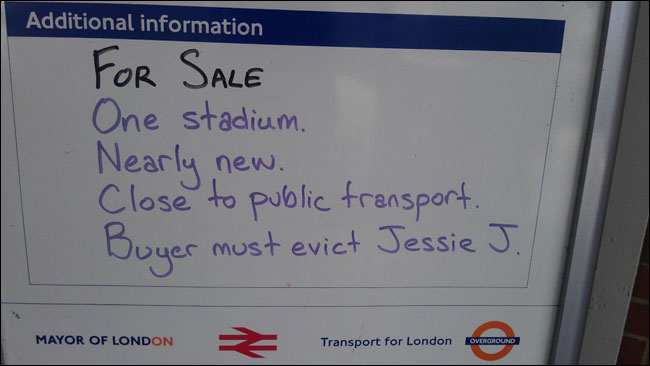 Onwards to Sochi and Rio
On a personal note I must say that I have absolutely loved London hosting the Olympic Games. I wrote in the introduction to "Keeping the torch burning" that:
"I sometimes feel like associations with the Olympics have been following me around most of my life. For a while I worked on the site of the stadium that hosted the 1908 Games in London, and my home borough of Waltham Forest is hosting them in 2012. I lived in Greece, the birthplace of the Games, and when visiting Athens I saw sites that had hosted Olympic action not just in 2004, but in 1896 and 1906 too. And by coincidence I was visiting China during the build-up to the Beijing Games of 2008."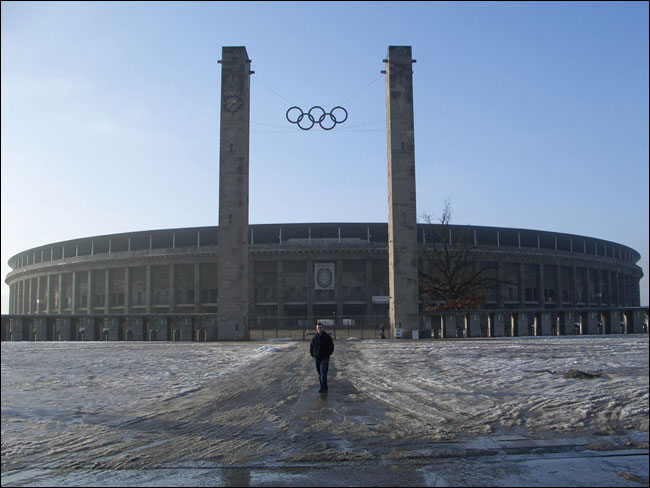 It is seven years since London was awarded the Games, and at the time I was working for the BBC on running their web homepage.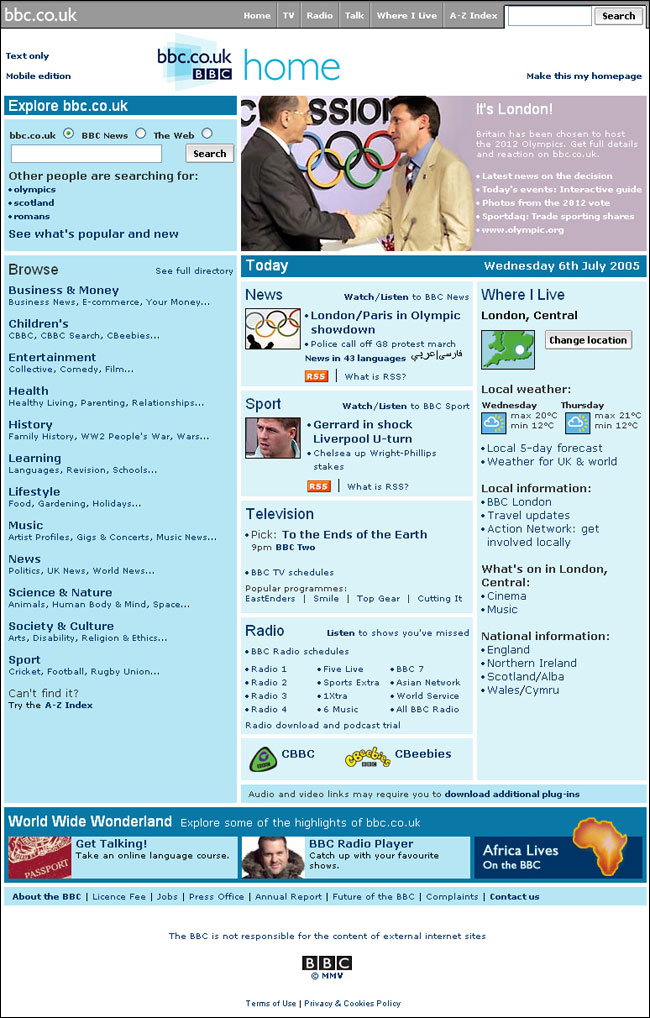 Travelling around the city over the last couple of weeks, and getting to watch the Women's Cycling Road Race and the Men's Marathon has been the fulfillment of a long-held ambition to watch the Olympics. And, by joining in a crowd that booed FIFA President Sepp Blatter before the medal ceremony at the Women's Football Gold Medal match, I even got to participate in some Olympic protest and dissent myself.
From Danny Boyle's opening ceremony, through the brilliant success of Team GB, and in the atmosphere of the city itself, it has been a brilliant time to enjoy being British, being a sports fan, and being a Londoner.
When can we host it again?
Read the whole "Protest and dissent at the London Olympics" series: Spectacle and television | Protests and disruption | Racism and sexism | Drugs and sporting protest | Business and security | Closing ceremony and farewell

Download the entire bonus chapter for iBooks | Kindle | PDF.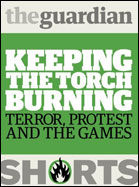 "Keeping the Torch Burning: Terror, Protest and the Games" is an alternative history of the Olympic Games, one that focuses on the social and political events that have defined each competition. Nationalism, separatism, feminism, racial equality and human rights ring loud in this Guardian Short, written by Martin Belam and uniquely told through first-hand reporting from the Guardian and Observer.
"Keeping the Torch Burning: Terror, Protest and the Games" - £2.99 on Kindle