Protest and dissent at the London Olympics: Part 3 - Racism and sexism
Before London 2012, the Guardian published my book: "Keeping the Torch Burning: Terror, Protest and the Games". It is an alternative history of the Olympic Games, that focuses on the social and political events that have defined each competition. Based on a 2008 series of posts, it is supplemented with fascinating contemporary reporting from the Guardian archives. One vital chapter was missing - the chapter about the politics and dissent that took place at the 2012 London Games themselves. So here it is...
Racism at the Games
Racism on Twitter
Before the Games even started, Greek triple jumper Voula Papachristou was expelled from the national team after making a racist remark on Twitter. After the reported appearance of Nile-virus-carrying mosquitoes in Athens, she tweeted: "With so many Africans in Greece, at least the mosquitoes of West Nile will eat homemade food."
She issued the following apology:
"I would like to express my heartfelt apologies for the unfortunate and tasteless joke I published on my personal Twitter account. I am very sorry and ashamed for the negative responses I triggered, since I never wanted to offend anyone, or to encroach human rights. My dream is connected to the Olympic Games and I could not possibly participate if I did not respect their values. Therefore, I could never believe in discrimination between human beings and races. I would like to apologise to all my friends and fellow athletes, who I may have insulted or shamed, the National Team, as well as the people and companies who support my athletic career. Finally, I would like to apologize to my coach and my family."
The Greeks were also on the receiving end of a Twitter controversy. German Olympic flag bearer Natascha Keller appeared to tweet: "The Olympic Village is filled with barefoot Greek athletes. As soon as we see them we are afraid that they will ask us for loans." The German National Olympic Committee immediately dismissed it as "cowardly fake", and the athlete appeared to close all of her social media presence.
Swiss footballer Michel Morganella also made an early exit from the Games on account of a racist tweet. Swiss Olympic team chief Gian Gilli said Morganella had "discriminated against, insulted and violated the dignity of the South Korea football team as well as the South Korean people" with his tweet. It used the derogatory slang term "trisos", used to describe people with Down's Syndrome.
German rower Nadja Drygalla left the Olympic village early after competing as part of the women's rowing eight team, after it was revealed she had links to a far-right extremist group. Her boyfriend, it was reported, had stood for state elections for the National Democratic Party, and was reputedly a member of the "Rostock National Socialists"
Racism in the crowds
Racism was also in evidence in the stands. During a Lithuania - Nigeria basketball match a 32 year old man was arrested on "suspicion of a racially aggravated public order offence". A group of Lithuanian fans were reported to be making monkey chant noises at the Nigerian team, and one fan was pictured seemingly aiming a Nazi salute at black stewards on duty within the arena.
Sexism at the Games
"There's 'the  football' and 'the women's football'; there's the Benny Hill theme tune played in the stadium for the beach volleyball; and if aerodynamics are so important, why do male runners wear long shorts and female runners wear knickers? If a named male athlete doesn't get a medal then 'maybe we'll get a medal in the women's'. Empty seats?  Let's give them to 'the lads' in the military who have lost their holidays – even though many of them are women.  And how long do you have to watch women's sport in public (whether at work or down the pub) before you hear comments about 'is she a woman or a lesbian?' etc." -  Cathy Meadows, Letter to the Guardian
Cathy Meadows' contribution to the Guardian "Letters to the editor" page was an eloquent list of many things that were wrong in the treatment of women at the Games. The issue of sexism in the treatment of women athletes was raised before the Games started, as the Guardian's Esther Addley looked at the travel arrangements of the teams arriving in London. The Japanese sent their World Cup winning women's football squad over in economy class, whilst the rather less decorated men's team relaxed in business class.
Australia also sent some of their men business class, whilst the women had to make do with the rear of the plane. In this case the athletes were from the basketball squads. You would think that the extra leg-room would come in handy for both genders who play that particular sport.
A legal challenge to LOCOG
British champion canoeist Samantha Rippington took up a court case to test whether LOCOG had failed to meet the standards of British equality legislation in promoting a Games schedule that featured many more men's Olympic canoeing events than women's. In total men competed for five C-Class golds and six K-Class golds, whereas women could take part in five K-Class events and no C-Class races. The legal principle being tested was whether LOCOG were carrying out "a governmental function" in organising the Games, and therefore failing to comply with the 2010 Equality Act. Her move echoed one of the very first Olympic protests - when Stamata Revithi agitated for the inclusion of women athletes in the 1896 Athens Games.
Sporting equality & universal representation
There were some clear gains for female competitors at the Games however. In Beijing Boxing had been the only exclusively male sport, but in London, the bout between Russia's Elena Savelyeva and North Korea's Kim Hye-song was the first time that boxing for women took its place at the Olympics.
Also of note was that Saudi Arabia, Qatar and Brunei all sent women athletes for the first time. Every nation at London 2012 was represented by athletes of both sexes - an Olympic first. Wojdan Shaherkani's participation at the Games had sparked a bitter row in Saudi Arabia, and nearly didn't happen, when at the last moment a dispute erupted over what type of head-covering she was allowed to wear whilst competing.
Body image
Zoe Smith set a British weight-lifting record at the Games, but also was the subject of a lot of abuse about her appearance following a television documentary about women who lift weights. Responding to what she described as the "obvious choice of slander" about her appearance being described as "unfeminine" by men, she blogged a blistering put-down of a response:
"What makes them think that we even WANT them to find us attractive? If you do, thanks very much, we're flattered. But if you don't, why do you really need to voice this opinion in the first place, and what makes you think we actually give a toss that you, personally, do not find us attractive? What do you want us to do? Shall we stop weightlifting, amend our diet in order to completely get rid of our 'manly' muscles, and become housewives in the sheer hope that one day you will look more favourably upon us and we might actually have a shot with you?! Cause you are clearly the kindest, most attractive type of man to grace the earth with your presence."
Metro in the US poked fun at the coverage of Beach Volleyball, where all the photography seemed to focus on the tiny bikini bottoms of the athletes. They published a gallery of asking "What if every Olympic sport was photographed like beach volleyball?" - with a tight focus on the nether-regions of a host of male athletes. Some of the comments underneath suggested that people were quite happy with this new type of view, and Zoe Williams wrote for the Guardian declaring an amnesty on being able to "ogle the athletes" for the duration of the Games.
Next...
In the next part of my round-up of protest and dissent at the 2012 London Olympic Games, I'll be looking at doping and sporting protests.
Read the whole "Protest and dissent at the London Olympics" series: Spectacle and television | Protests and disruption | Racism and sexism | Drugs and sporting protest | Business and security | Closing ceremony and farewell

Download the entire bonus chapter for iBooks | Kindle | PDF.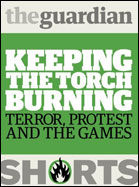 "Keeping the Torch Burning: Terror, Protest and the Games" is an alternative history of the Olympic Games, one that focuses on the social and political events that have defined each competition. Nationalism, separatism, feminism, racial equality and human rights ring loud in this Guardian Short, written by Martin Belam and uniquely told through first-hand reporting from the Guardian and Observer.
"Keeping the Torch Burning: Terror, Protest and the Games" - £2.99 on Kindle