All your UPA 2011 slides are belong to us

"I love that my work improves people's lives on a daily basis, even in the smallest ways; by decreasing frustration and saving time. Hopefully these improvements allow them to do meaningful things in their lives and the lives of others." - Carol Smith
Here is my almost certainly doomed attempt to gather together in one place a running linklog of the slides, resources, posters and blog posts from the speakers and attendees at the UPA 2011 conference in Atlanta as they appear on the web. If I've missed one, let me know in the comments or tweet me the link to @currybet.
Tuesday - Tutorials
Presentations - Wednesday
"Better Usability Through Visualization" by Chuck Konfrst, Justin Cullifer, Chris Staufer, Jason Kuykendall
Presentations - Thursday
Ignite & Unconference sessions
Posters
"Space, the final frontier" - Christopher Nicholas & Kath Straub presenting ReadSmart, which reformats text into phrases to aid comprehension.
Blogposts
Elsewhere on the web...
And why the bad grammar in the title?
Way back in the steam-powered days of the internet, i.e. around about 2000, "All your base are belong to us" was an internet meme based on a bad translation of some text in the Japanese video game Zero Wing.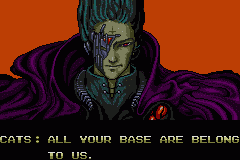 You might also be interested in: All your IA Summit 2011 slides are belong to us and All your EuroIA 2010 slides are belong to us