7 things I love about the new Guardian artist pages for Glastonbury
This week, in the run-up to Glastonbury, at The Guardian we have begun publishing the latest incarnation of our artist tag pages.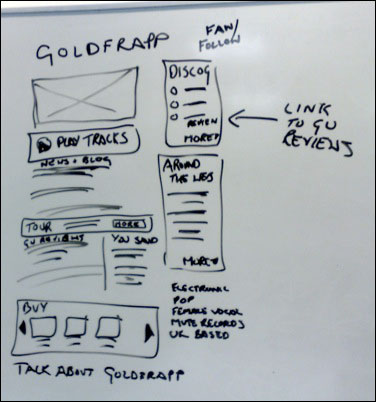 These gives us an automated page for every artist playing at the festival, which mixes together our own content with content drawn from the rest of the web.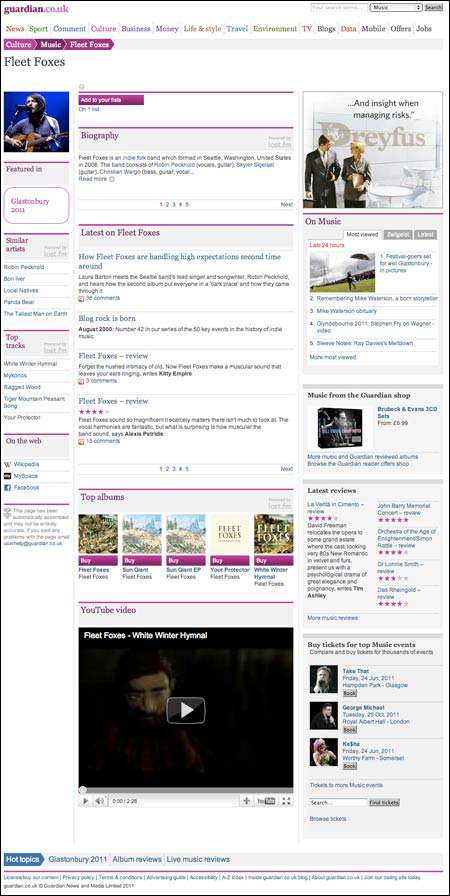 It is an extension of the work that we did earlier in the year based upon the SxSW festival, and on some even longer-standing prototypes that our development team built in the middle of 2010 as a proof of concept.
Why am I so pleased about them?
1. They are "of the web", not just "on the web"
Integrating content from YouTube and Last.fm makes the pages a starting point for exploring an artist, rather than the pages being a destination in themselves. We are unlikely to have stories or video content or track-lists from all of the artists playing at Glastonbury, but these sources will.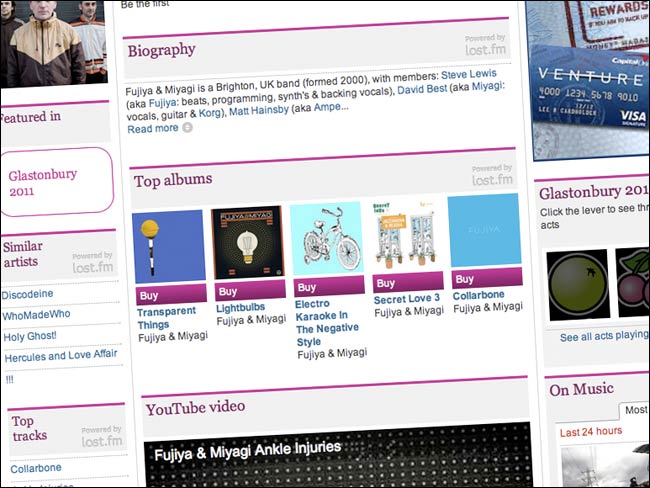 2. They will build up into a "festival by festival" guide
We are not just making these festival collections for Glastonbury. If you look at an artist like Laura Marling, you'll see her pages indicate that this year she is part of Glastonbury and Bestival and the End of the Road festival. Over time these festival collections should provide a guide to how the careers of young artists developed. [1]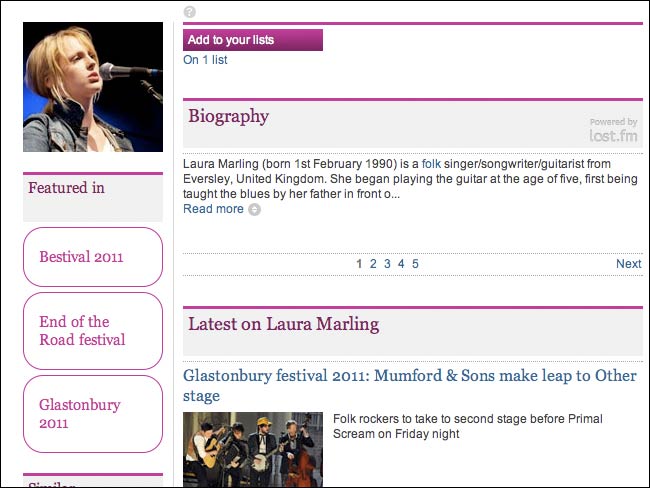 3. Our users can do things with them
We've extended the lists functionality that we introduced when we updated our books site, so you can now make lists of artists you'd like to see at a fantasy festival. Even if you are appearing at the festival like CocknBullKid. It is a very basic offering at the moment, but we are building up to releasing further community functionality around lists later in the year.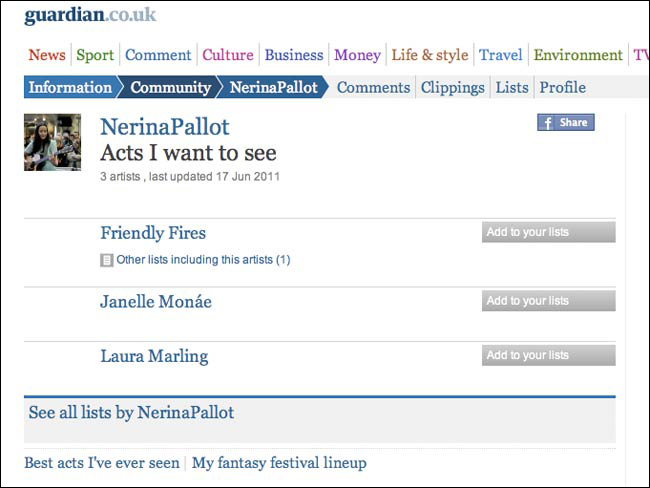 4. They've got little robots on them
I think I've said before that it is easier, cheaper and faster to publish lots of things automatically, and wait for the audience to alert you to the problems, than to try to 100% error-proof all of your data before you publish. That isn't necessarily a natural mindset for a newspaper to have. Our little robot serves as a visible disclaimer that somewhere in this set of pages there are going to be problems.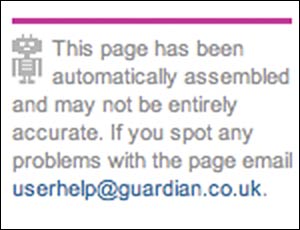 5. They can cover anyone
If you look at the URL structure, you'll see the inclusion of a MusicBrainz ID. Swap in a new ID, and you get a new page. Which means we now have tag pages for everyone I've ever liked, for example Depeche Mode and Kraftwerk and Talk Talk. And pages for things I really like now, like Lali Puna and Midlake and Fever Ray. And pages for the really obscure acts on my iPod like Slab!, Klaus Nomi and Die Doraus & Die Marinas. And even a page for my old band Bark Psychosis.
6. There is a page for The Wombles
By virtue of their controversial booking at Glastonbury, The Guardian now has an automated artist page for The Wombles. Given that Superwombling was my absolute favourite album as a five year old, this must count as one of the highlights of my career.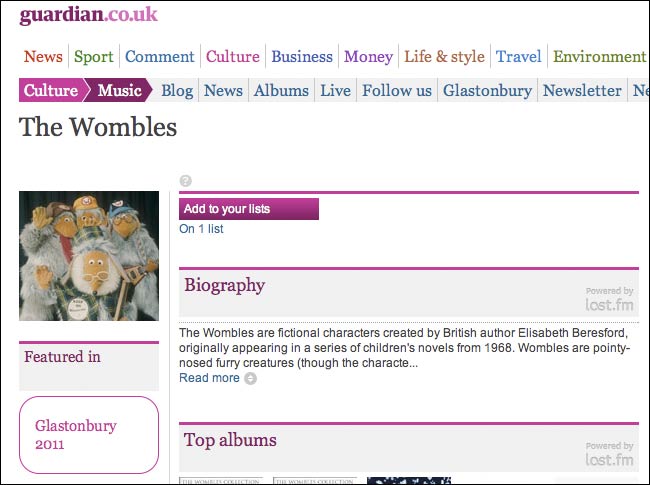 There isn't, however, a page for Rastamouse I notice, as nobody seems to have made a MusicBrainz ID for Da Easy Crew.
7. The pages have an error cat...
...asleep on a mixing desk, which we can add to our collection of Zeitgeist error otters.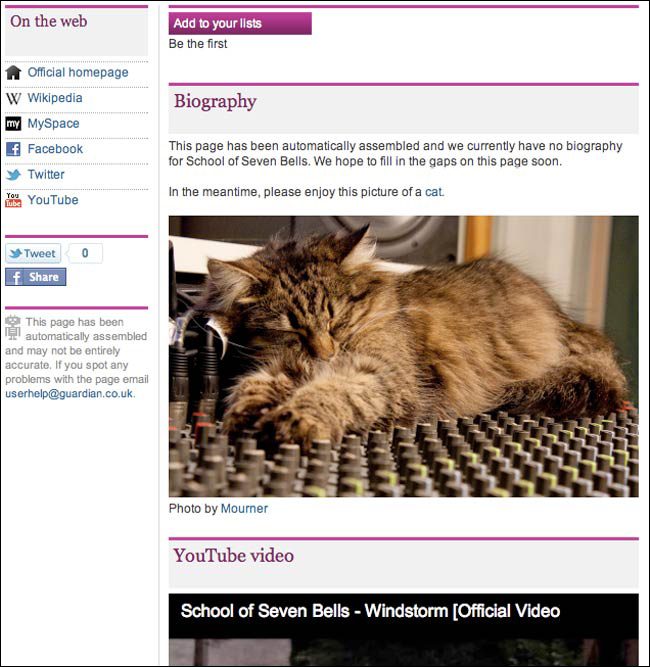 Want to find out more?
Over the next few days our Developer Blog will have a couple of posts looking at how the pages are built from a technical point of view. And in September I'll be at EuroIA in Prague talking about "The Information Architecture of /culture", explaining some of the thinking behind the design process for these pages.


[1] You'll also note from her bio that she was born in 1990, a fact which if you are the same age as me will send shivers down your ageing spine. It seems inconceivable that an artist I like could have been born as recently (from my perspective) as 1990 when it was all teenage angst and Violator. [1]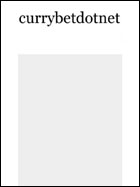 "currybetdotnet: Best of the blog 2011" brings together over 50 of the best posts on this blog from 2011, covering topics such as live blogging, community and social media for news websites, and the future of digital media. It features write-ups of talks by Guardian journalists including Paul Lewis, Matthew Wells, Andrew Sparrow and Chris Elliot, and behind the scenes looks at Guardian products like the Facebook and iPad apps. It also has transcripts of Martin Belam's talks at EuroIA, the UPA conference, Polish IA Summit, Content Strategy Forum 2011, FutureEverything and Hacks/Hackers London.
"currybetdotnet: Best of the blog 2011" for Kindle is £1.92.