60% of Editors Blog comments hate the BBC News redesign
"A silly waste of licence-payer's money and another example of the relentless advance towards turning the Web into a Fisher-Price wonderland for simpletons."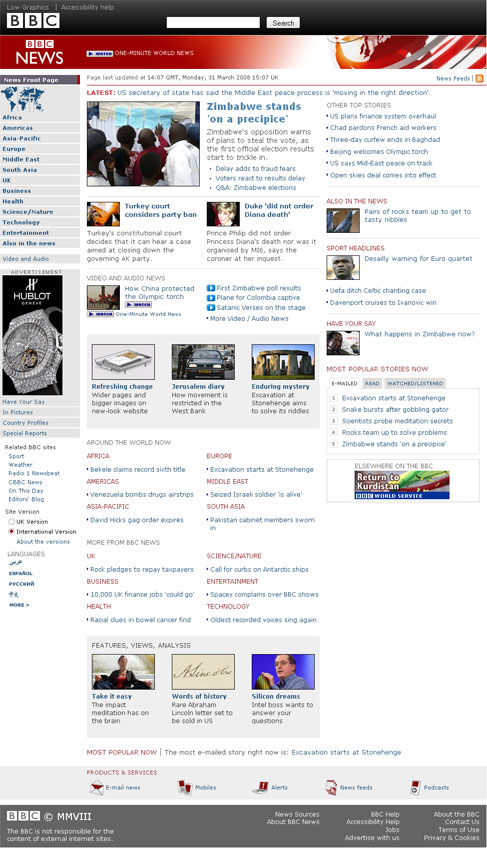 And with a quote like that, you know you must be on the BBC Editor's blog talking about the re-design of the BBC News site. At the time I checked it yesterday, Steve Herrmann's piece about the new look had generated 627 comments. At last count there were over 1,500.
From experience I have a checklist of what to expect in any public response to a new BBC design, and it all seemed present and correct. Accusation that the new design represented 'dumbing down'? Check. Suggestion that it was the work of students rather than someone who had put any thought into it? Check. Waste of the Licence Fee? See above. Insistence that people should be fired because of the changes? Check.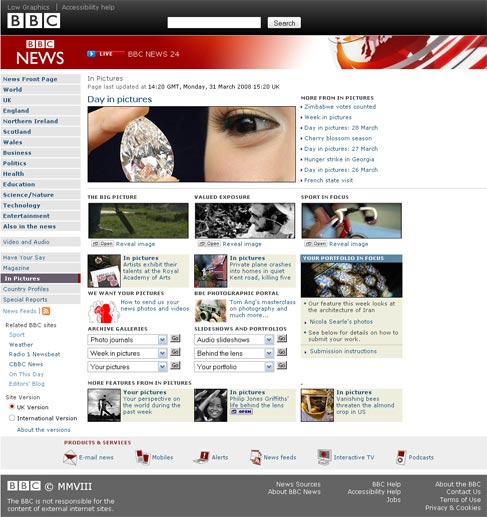 Someone called Fred enquired quite early on in the thread:
"What ever happened to the old saying if it isn't broken don't fix it?"
Well, Fred, I'm happy to confirm that the saying is alive and well, and mentioned no fewer than 22 times amongst the 627 comments that I saw. A count which doesn't even included variations like 'change for change sakes'.
Comparisons to the opening day jitters at Heathrow's Terminal 5 cropped up a fair few times as well:
"Not good, I'm afraid: the triumph of form over function. (Why does Heathrow Terminal 5 come to mind ..?)"
"Looks like it was tested as much as BA's T5 project.."
Although it was not always in a negative context:
"Looks great and very clear and clean on the AppleMac. Can you have a go at redesigning Heathrow T5 :-)"
There were a couple of mentions of Fisher-Price, and the suggestion that the site had lost some impact and seriousness.
"The new pastel colours are a bit lightweight. Too BBC Breakfast, and not enough Ten O'Clock News. Overall the looks is a bit Fisher-Price 'My first website' - something that you make with a wizard in Front Page or something."
"Please lets have the old one back nice and smart. This is along the lines of tellytubbies."
"In terms of style, if the old look was the Times, it now looks like the Beano. I thought the old style had more gravitas."
Amusingly there were a couple of requests for the analogue-style clock from the new BBC homepage to be added - which, considering it was such a divisive feature in that redesign, would have opened up a whole new can of worms.
"Could you put the clock thats on the BBC homepage in the top right corner of the news website? It'll be a nice addition and fill the empty space up there."

And, of course, scratch the surface of any public response about the BBC, and you'll find a grammar pedant:
"What's more important is the style of writing, when did full stops become replaceable by commas (see first sentence) - and when did it become acceptable to use a hyphen in the place of virtually anything??"
I did a quick rough'n'ready analysis of the first 200 comments on the page, crudely dividing them up into 'approved of the new design', 'disapproved of the new design' and 'uncertain' where they didn't seem to express an opinion either way.
The result was that 120 comments, or 60%, disapproved of the design, whilst 65 comments, or 32.5%, approved. There were 15 non-committal comments in the first 200.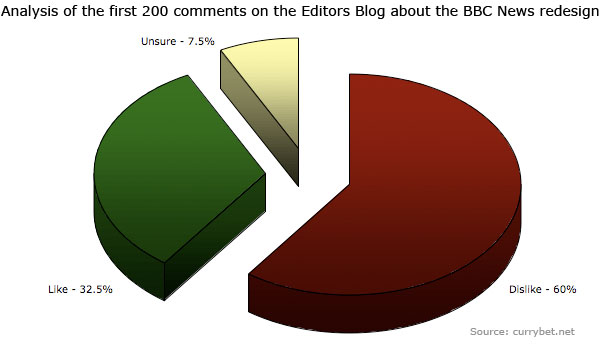 I should imagine that the BBC will actually be quite pleased with those figures. There is always a tendency when making a big change to evoke strong negative responses on blogs and via email. Just yesterday, Matthew Ingram described this as the 'phone-in show' effect of blogs.
"Violent agreement is an unusual thing to see, in most cases. But disagreement is almost always emotional — even if it's couched in logic. And it's a strong emotion. People who disagree with something are motivated to pick up the phone and call into a show, or click the mouse and comment. People who agree are much more likely to just nod their head in agreement and get on with their day."
As I went through the first 200 comments, I also made a note of recurring topics. Two of the most popular complaints were a lack of weather (49 comments) and a lack of postcode-driven local news on the UK edition of the site (31 comments). It appears that both of these elements were missing from the launch of the UK version of the page due to a glitch, so the BBC has already addressed those concerns.
The other major issues that cropped up were that there was 'too much whitespace' (37 comments), the page was too wide (34 comments), the font used was hard to read due to the colour (22 comments) and that the double banner was too large (20 comments).
Last year I did some consultancy work at the BBC and at BBC Worldwide looking at how that 'toolbar' space across BBC web properties might be used. So far they seem to have put in the very bare minimum for the area - a logo, a search box and two links. I'll be interested to see how that space develops.

I noted 11 comments amongst the first 200 lamenting the loss of either the 'tabbed' toolbar or the UK version with its links to 'Where I Live' and so on. Received wisdom within the BBC, and the statistical evidence of click-throughs, is that as a navigation device this toolbar is used by very few people. Possibly all 11 regular users complained!

In amongst the 'I love it' and the 'Horrible, horrible horrible' quotes were a few interesting technical points about the new page. One was the fact that it doesn't validate, and in fact, is strewn with validation errors.
" I quite like the new look, but is there any chance of the underlying HTML to get at least vaguely closer to the XHTML 1.0 Transitional it's claiming to be?
The W3C's HTML validator reports 378 errors for the front page alone - many of which would be incredibly easy to fix.
Even just changing the doctype to the older HTML 4.01 Transitional would take the number of errors down to 75. Currently, it's claiming to be in one dialect, when it's actually far closer to another."
A lot of people pointed out that it was a mistake to make the page 'fixed width' rather than fluid.
"The simple solution is to just have the page fit the space available. If needs be you can set a maximum width so it does not stretch beyond legibility on large screens. This is something anyone with a knowledge of CSS would be able to accomplish in an afternoon. It's not hard."
There was also mention that the design still relies on HTML tables to lay out the page, rather than using CSS for layout.
"I like this redesign (more of a realign really), with better use of the available browser width and larger photos: but how can you guys justify using tables to lay out non-tabular content in 2008? What a shame. I wonder if the content management system is dictating the design, rather than the design directing the way the CMS should work?"
Knowing some of the client-side team at BBC News, my guess is that they would have loved to render the pages in table-less pure CSS driven XHTML, but that 10 years worth of legacy kludge from the News CPS will have hindered them. I think I can anticipate what the outcome of any short-term cost/benefit analysis of rebuilding the front-end in old skool HTML versus re-building the entire CPS would be.
One comment on the blog suggested the BBC should just rip it all up and go back to 90's style HTML anyway:
"Can we go back to the 1998 design? It was no-nonsense, distinctive and very British." [1] [See comments for more on this quote]
A handful of iPhone users commented that it didn't work very well on their browser. I'm sure it won't look great on my Nokia N95 browsing with the images off, but I don't really expect the BBC News design to worry too much about edge-cases like that. I guess though, if you've invested in the most expensive exclusive UK contract phone that money can buy, you'll lash out and blame anyone for a poor internet experience rather than Apple ;-)
I was going to leave the final quote to Jel Mist, who almost certainly calls it like it is:
"I would bet anything that when the old look was first rolled out (when was that? 2002? 2003?) there was the usual string of complaints, just as we are seeing now. We have had several years to get used to the compact format that's now being retired.

My guess is that most of the complaints are less down to objective comparisons of old vs. new, and more to do with the discord that inevitably accompanies the new and unfamiliar. People are comparing the new look against what they are used to, and anything not in its accustomed place will be marked down.

Give it a few weeks for the new look to bed in and for us to get used to it, and for the site designers to tweak it in response to valid criticism and suggestions, and we will wonder just what all the fuss was about."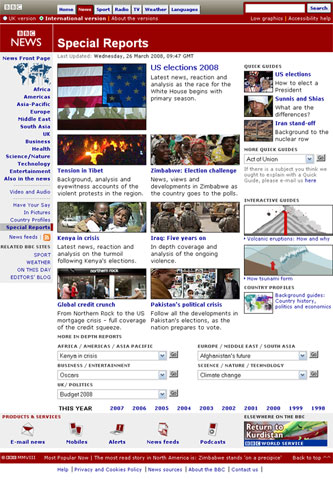 But I thought it was more fun to give the last word to Ed, who didn't just dislike the new design, but found it:
"Very insulting!"
[1] Although I did wonder it that was left by Matt Jones under a pseudonym ;-) [Return to article]