Making the most of blog comments: Part 3 - The 100 blog survey II
This week I've been looking at some of the ways that blog owners can promote the comments on their blog to make them more prominent. Having listed a series of different ways of promoting comments, I undertook a survey of 100 blogs, to see which methods are the most popular.
I used blogs that are top of the subscriber list in Bloglines, blogs from my own reading list, and 50 blogs at random via searches on IceRocket and what was appearing on Technorati. Of course, 100 isn't a big enough sample to provide definitive results, but it is big enough to give us an idea of the relative range of popularity, and some examples of comment promotion in use.
Yesterday, I showed that 90 of the blogs in my survey accepted comments, and that 86 of them had a 'comment count' for the posts on their homepage. I found that the vast majority labelled their comments as 'comments' rather than 'response' or 'replies' or anything like that. Finally I looked at whether the blogs provided RSS feeds of their comments. I found that 13 provided a full RSS post of comments, and 27 provided RSS feeds on a 'per post' basis.
Could users rank or rate comments?
Some sites offer the ability for users to rank and rate comments. This isn't in the same sense of 'Complain about this post', but in the sense of being able to recommend comments as interesting for other users. Only a small number of sites in my sample had this kind of feature, which is more common on forums and message boards than on blogs. I noted Betanews, Engadget and Martin Stabe with some form of comment recommendation system.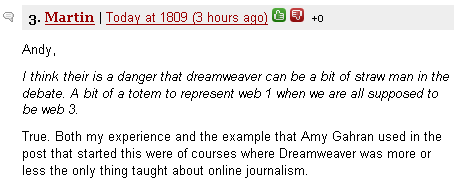 Was there a 'recent comments' list?
I looked to see if a blog included within the page navigation a list of posts that had recently been commented on. The usual format is <commentator> on <post title>, so entries appear as "Dr. John Smith on Stolen UNIT laptop scandal".
This was less popular than providing a per feed RSS stream of comments - I spotted it on 17 of the blogs I was looking at, including Cheat Seeking Missiles, City of Sound, Financial Armageddon, Popgadget, PVRblog, The Tax Payers Alliance, This Is Not My Country and TMZ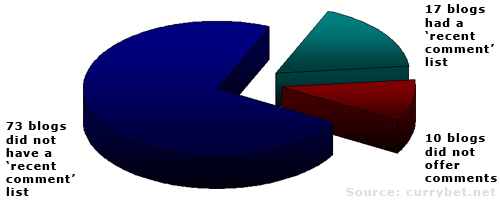 Where were the 'recent comments' lists placed?
Finally, I looked at where blogs placed their 'Recent comments' list if they had one.
Over-whelmingly they were placed in the right-hand navigation of a blog. However, again I think this metric is very platform dependent. Typepad offers a 'Recent comments' list as part of the default template set-up. The majority of the sites that I saw with this type of navigation were running Typepad in a basic two-column configuration.
Exceptions included Cybersoc, I Started Something and Science Blogs - Drug Monkey, which had their recent comments listing on the other side of the screen in their left-hand navigation.
There was another different approach from Lifehacker. On the homepage, Lifehacker displays an excerpt from the most recent comment on each individual post. I found this quite striking, and unique amongst the 100 blogs I surveyed.

The overall picture
As I mentioned yesterday, 100 blogs is nowhere near enough to be a representative sample of the blogosphere, but it is enough for me to make some broad and sweeping assumptions. One of these is that the way that comments are promoted on blogs depends to an extent on the blogging platform chosen. The out-of-the-box configuration of Wordpress, for example, is much more inclined to promote comment content via different methods of RSS, whilst TypePad uses the more editorial 'Recently commented on' list approach.
This chart shows the relative popularity of each methodology across the 100 blogs I surveyed.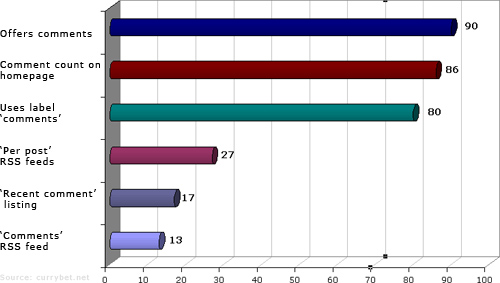 The 100
The other blogs in the 100 which I haven't mentioned specifically so far were [BEEP], About Cats, About Contemporary Literature, AboutDogs.info, AdScam/The Horror!, Agent Bedhead, Apophenia, Articles of Mastication, The Astute Blogger, Creature Comforts, Cure for Boredom, D-Day, Diamond Geezer, The Dread Pundit Bluto, Econbrowser, Financial Armageddon, Fire Dog Lake, Frankie Roberto Blog, Gizmodo (UK), gts-News, Hacking Netflix, Informed Comment, The Jawa Report, Just Jared, Life as I know it..., Linux Journal, The Lubin Files, Make Blog, Mezzoblue, Net, Blogs and Rock'n'Roll, Pittock HQ, Razali's blog, renaissanceCOBALT, Right Brained Gal, Scrappleface, SimpleBits, Teacher Dude's Grill and BBQ, Truthdig - Ear To The Ground, United Portrait Studios Blog, Wow Auto
Next week...
In the next posts in this series, I'll be looking at some of the issues around using RSS feeds to promote and distribute the comments left on blogs. This will include some ideas on how to add a comments RSS feed to Movable Type, and how to use Yahoo! Pipes to make compound feeds.