Chipwrapper goes to church
As well as an array of 'vanity searches' and 'vanity alerts' from Google trying to track down every reference to this site on the web as it happens, I also look out for references to Chipwrapper, the custom search service for British newspapers that I put together.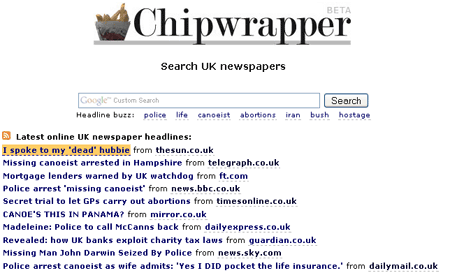 It has turned up some very kind comments about the service, as well as some very thorough reviews that have rightly found it to be lacking in some key areas.
One thing I wasn't expecting, however, was to turn up Prayer Topics & Bible Readings.
It seems that there is a church group with a chipwrapper of their very own. They have an online blog called The Church & Chips Blog, which derives its name, it seems, from the fact that one of the keys to attracting youths to their meetings is to offer a meal that features chips.
The offline version is called 'The Chip Wrapper':
"Welcome to another Edition of the Church & Chips Blog - and Chipwrapper - (that is my name for the printed edition)"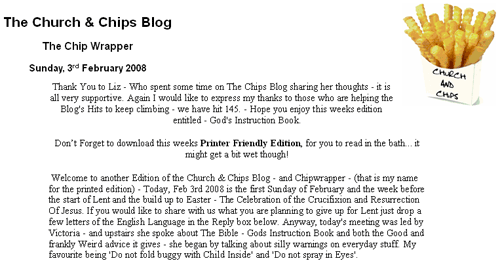 I wish them all the best with their blog as they develop and grow it.