Making the most of blog comments: Part 2 - The 100 blog survey
We often hear that having a blog is being part of a conversation, but it sometimes seems difficult to direct your readers to the latest comments that have been left. Yesterday I listed ways that you can promote and showcase the comments that have been left on your blog.
I wanted to get an idea of how popular these methods were, so I did a survey of 100 blogs. 100 isn't a big enough sample to be truly representative of the blogosphere as a whole, but it is enough to give some pointers as to the relative popularity of the different ways that comments can be highlighted.
I derived my list of 100 blogs from four locations. I picked the top 25 most popular blogs by their Bloglines subscription numbers, excluding those from mainstream news publications and TV stations. Then I took 25 blogs from my own reading list. Next I took 25 blogs at random from the Ice Rocket search engine by searching for a couple of bland keywords likely to appear across a range of blogs. Finally I started looking at the upcoming blog posts on Technorati until I had completed my 100.
Did they feature comments?
The first check I made on the blog was to see if it took comments. Although generally the interaction with users is seen as a vital part of blogging culture, not all blogs accept comments. For major publishers this can be to avoid the headache and overhead of moderation - for smaller publishers it can be to avoid the chore of fending off spam. The vast majority do though. In my sample of 100, I found that 90 of the blogs did - a nice round 90%.

The ten blogs I looked at which did not accept comments were Baghdad Burning, Eyebeam reBlog, HammondCast's blog, I Rock That's All, Joel On Software, Kevin Kelly Cool Tools, Talking Points Memo, The Official Google Blog, The Scary Basement, and Vintage Designer Handbags Purses & More.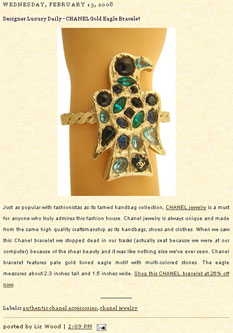 Were 'comment counts' featured on the homepage post metadata?
It has become convention on the homepage of a blog to list underneath an entry some metadata associated with that post. Often this consists of the name of the author, a link to the entry's individual page, a category or categories that apply to the entry, and the time and date the entry was published. Often this metadata also includes a link directly to comments on an article, with an indicator of how many comments have been left so far.

My second test of my 100 blogs was whether they included a comment count for each entry on their homepage. I found that 86 did. This represented just over 95% of the blogs I looked at that featured comments.
The four blogs that accepted comments, but didn't have a count next to the comment link on their homepage were A List Apart, iMedia Connection SEO Blog, Next Generation Blog and The Plum Daily.
How were comment counts labelled?
I was interested to see how people labelled their comment counts. The nearly universal label was simply 'Comments (n)' or '(n) comments'. Of the 86 blogs with comment counts, 80 displayed their comment counts using the label 'comments' in this way.

The exceptions included two sites that exhorted the user to 'Discuss' the post (Boing Boing and A List Apart)
Who Knows Where Thoughts Come From? labelled comments as 'Additional thoughts', whilst Blue Crab Boulevard called them 'Responses' and Silicon Alley Insider simply used a speech bubble icon with a number next to it.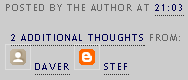 Bark Bark Woof Woof appropriately opts to bark out 'Speak!' as a command to visitors when a post has no comments, and then measures increased engagement in barks and woofs.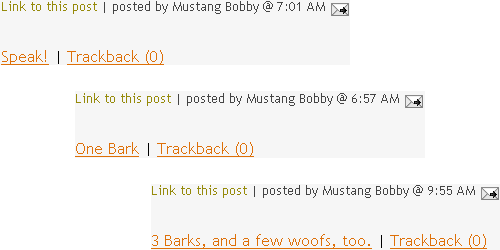 Was there an RSS feed of comments?
Some blogs provide an RSS feed specifically of the comments that have been left on a post. In my sample, this was particularly seen with people who were using Wordpress as their blog CMS. Many Wordpress themes feature a link to not only a feed of the blog posts, but also a feed of the comments in the 'Meta' area of the page. I found 13 of the 100 blogs had an RSS feed which featured an aggregation of comments from all posts.

These blogs were I Started Something, IA Play, James Cridland, Jemima Kiss, Martin Stabe, Mediawatchwatch, Mercury Rising, Online Journalism Blog, Open Rights Group, RachelCreative, The Get Satisfaction blog, The Shifted Librarian and Which End Bites.
Was there an RSS feed of comments on each individual post
Both the Wordpress and the Blogger platforms make it easy for authors to provide a unique RSS feed for each entry which lists the comments that have been left in response to the original post. Just over a quarter of the blogs I looked at provided this type of feed.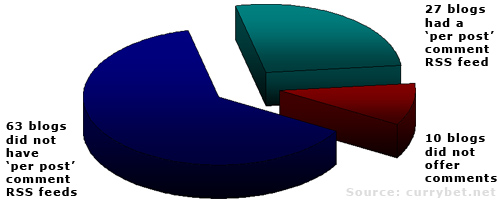 The majority of the blogs with a full comment feed also offered this option, along with Brits At Their Best, Captain Pariah: Danger!, Chimp Media Monitoring News, Duct Tape Marketing Blog, Engadget, Hare Krishna, Leapfroglog, Martin Moore Blog, Mildly Diverting, No Rock And Roll Fun, Paleo-Future, Purveyor of Imagination, Saeva Blog, TechCrunch and Web-Graphics. This made 27 in total.

These RSS findings clearly represents one metric where the author's choice of platform, and whether they deploy the templates 'out-of-the-box', makes a big difference to the figures. It seems likely that this feature was enabled on many of these blogs because it was the default setting of the theme they choose.
Tomorrow...
Tomorrow I'll be continuing to look at the 100 blogs, examining if they display lists of 'recent comments', or whether they allow users to rate and manipulate the comments that have been left.