British newspaper search plugins for Internet Explorer 7 and Firefox 2
A couple of weeks back I published a set of 15 different search plugins related to the BBC, that would work in either Internet Explorer 7 or Firefox 2.
I've also produced a fairly comprehensive set of 28 29 search plugins covering the variations of search across the major British newspapers.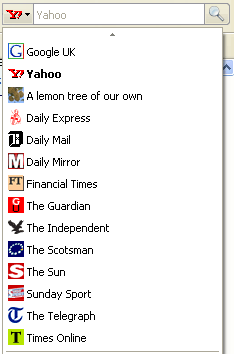 I'm aware that plugins for some of these papers already exist. For example, the Daily Mail, Times and Guardian searches are all offered to UK based users of Internet Explorer 7 when they click on "Find more providers" from their search box drop-down. However, I thought it would be useful to gather a complete set all in one place.
In addition to the eight leading papers (Daily Express, Daily Mail, Daily Mirror, Guardian, Independent, The Sun, The Telegraph and The Times) I have also made plugins for the Financial Times and The Scotsman, and incredibly also for the Sunday Sport.
The latter was more out of a sense of duty to be a completest rather than it being of any great use - for example my test search for 'donkey' pulled up a story about Spanish bullfighters battling giant turtles.
I have omitted the Daily Star since they only offer a badged websearch and a badged version of the Thomson Local directory. Both of these are also provided by sister site the Daily Express, so I only made plugins for these options on the Express site.
I must mention a black mark here for The Telegraph.
Whilst their blog and My Telegraph searches were easy to make a plugin for, the same cannot be said for the main search of the newspaper. It obfuscates the URL triggering the search, which means that I couldn't find a single automated custom search engine builder (and you can find ones here, here and here) that could interpret it correctly.
I tried to reverse engineer it, but in the end I was beaten by it. I find it ludicrous that I can easily offer a search plugin for soft pr0n comic the Sunday Sport, but not one for The Telegraph.
In the end, I have made one that searches Google UK, but restricts the results to pages on the telegraph.co.uk domain.
There is, of course, a serious point here. The web relies on the URL identifying each unique document. The rise of rich AJAX-y application interfaces and complicated iFramesets increasingly breaks that link, and makes it harder to extend the functionality of sites.
In this instance it isn't entirely clear why The Telegraph had to go down this route. I'm sure there were sensible considerations in making The Telegraph's search workings invisible to the user, but it does have consequences.
Certainly, nobody can use Internet Explorer 7's built-in custom search builder to add The Telegraph to their drop-down searches, which seems a missed opportunity for the newspaper.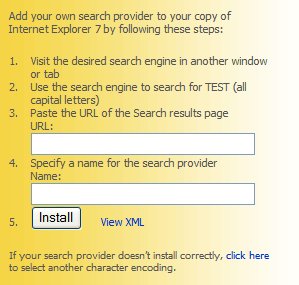 Please feel free to let me know of any search boxes across the British press that you feel I may have missed, it is fairly trivial to put them together and add them to this list.
Which makes it all the more surprising that none of the papers themselves seem to offer any kind of opportunity for their readers to download custom search plugins from their sites.