National Television Awards vote seems wide open to multiple vote fraud
Like a good Doctor Who fan I was gently shepherded along by the Outpost Gallifrey site RSS feed this week to go and cast my vote for Freema, David and the series in the National Television Awards 2007 vote. It seems slightly early in the year to be handing out gongs, but there you go.
There were a couple of things that struck me about the voting process itself - particularly with the announcement this week that the BBC has been fined by an external regulator for the first time due to the Blue Peter misdemeanour, and the verdict on the Richard & Judy "You Pay, We Coin It" phone-in.
With experience at the BBC of making sure things are done securely, I've mentioned before that I don't think that many online votes by broadcasters or newspapers would stand up to a great deal of scrutiny by the relevant authorities - and the National Television Awards vote is one of them.
Firstly, I was struck by a bit of a usability issue as soon as I hit the "Most Popular Newcomer" question, and realised I didn't know any of the people up for the awards - Freema not having been nominated for some reason.
I desperately wanted to vote for RON like I did back at the old Student's Union - Re-open Nominations. I couldn't progress by pressing the submit button if I hadn't chosen one of these strangers. I was tempted just to do a Google Image search for their names and vote for the nicest looking, but eventually I noticed that there was a 'skip' option.

I thought that it could have been better placed.
I understand not wanting it near the submit button, in case people mistakenly press the wrong one, but it seemed odd to put it above the list of nominees, when presumably, like me, you only know you want to skip a category once you have decided you don't want to vote for any of the choices.
However, it was the ability to keep the vote tamper-free that concerned me more - and where I believe regulators should be keeping a closer eye on the media in this area.
Despite a disclaimer that multiple votes would be discounted, the site didn't seem to be taking even the most basic of precautions to do so.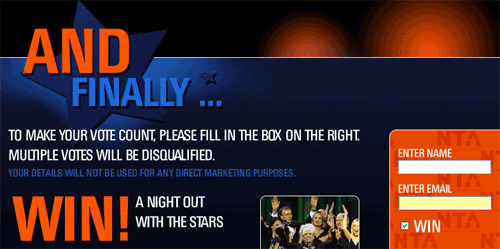 When you reach the end of the vote you need to submit a name and an email address, and tick a box to choose whether you want to win a chance to go to the star-studded ceremony or not.
After that, you get neatly patronised by telly people with a totally cringesome "Thank you! You've been wonderful" message.

And then, you can click the link in the top-right hand corner of that page to 'Vote now', which takes you through to another page with a big red teaser saying 'Start voting', and then you can start voting all over again within three clicks.
They haven't even taken the low-level precaution of putting a cookie on your machine to discourage multiple votes from the same browser and the same session.
You have to submit an email address, and presumably they will de-dupe these, but two days after voting, I've had no email from the National Television Awards asking me to confirm my address, so they don't appear to be validating the email addresses they collect.
All of which suggests to me that come October, Trevor McDonald will be presenting the prize not necessarily to the most deserving winners in each category, but to the people with the most motivated and geeky net-savvy web audience.
David and Freema it is then.
Speaking of which, there is another online Doctor Who vote going on at the moment if such things take your fancy.
You can guarantee another few column inches in the press about the show by either making David Tennant the favourite Doctor of all time, or not, over at UK Drama, who are having a vote to promote their forthcoming Doctor-Who-a-thon. Haven't we been here before?