Tweaking my old Glastonbury articles in response to searches
If you are looking for a 5 day weather forecast for Glastonbury please follow this link - BBC Weather
With the annual media hype fest that is Glastonbury approaching in a couple of weeks, I noticed yesterday a sudden huge spike in the number of people arriving at the currybetdotnet site looking for things like "glastonbury weather", "ten day weather forecast glastonbury", "weather glastonbury" and so on.
I'm guessing these are people who are not actually particularly interested in my thoughts on the changes made to the BBC homepage to promote the 2005 edition, but who are rather more interested in finding out what the weather will be like this year.
Back in 2005 I was part of the team switched the default weather location at bbc.co.uk to be Glastonbury instead of the ever-present Central London, to coincide with the start of the festival.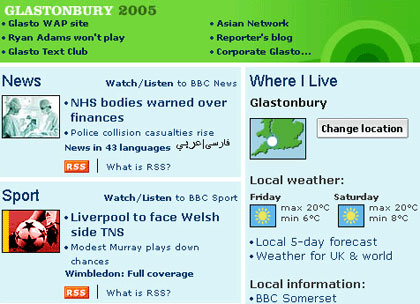 It was the start of a planned 'weather tour' - where the default location on the homepage would move around the British Isles to demonstrate the functionality of the 'Change Location' button, and also show that the BBC wasn't always quite so lazily London-centric as people accuse it of being.
It didn't quite work out, as I wrote on the reboot:bbc.co.uk blog last year:
I was completely unprepared for the storm of protest that followed - the BBC received hundreds of emails complaining. Now, a good proportion of these must have come from irate Londoners who had never had to set their postcode cookie because the weather forecast was always relevant to them. We hadn't changed anybody's personalised forecast, but we had changed the forecasts of people who perceived that the web site had detected they lived in London. The volume, and ferocity, of complaints though were enough for us to decide to abandon the plan.
Which is, I guess, why the BBC's weather forecasts still default to Central London to this day.
Luckily, I can be a bit more flexible on currybetdotnet, so I've gone back and edited my article about the Glastonbury weather from 2005 to include a bit at the top with an obvious link straight through to an actual weather forecast.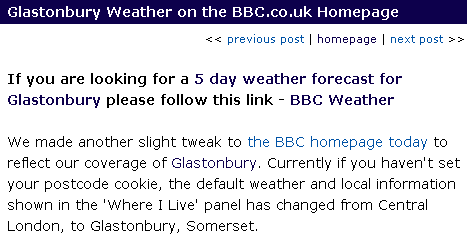 For the sake of those currently searching for 'glastonbury weather', I hope it won't be as muddy this year as the image the BBC had on the homepage promoting it back in 2005.