Today is the deadline for opting out of Feedburner handing all of their usage data to Google
It hadn't occurred to me that the purchase of the hitherto excellent FeedBurner service by Google would have any implications for me, but that was before I logged in the other day.
Today is the deadline for telling FeedBurner "Thanks, but no thanks" to the new state of affairs.
If you use FeedBurner and you let them know today, they will cancel your account and delete all of your historical statistics and usage data, and stop serving your feed.
NOTE: Service of FeedBurner publisher accounts will not be interrupted as a result of the acquisition by Google. You will have a 14-day interim period ending June 15, 2007 to opt-out of allowing Google to service your account. If you take no action by June 15, 2007, the rights to your data will transfer from FeedBurner to Google. Opting out will terminate your user agreement with FeedBurner, permanently delete your FeedBurner account, feeds, and all related statistical data and history, and prevent the transfer of your data rights to Google. To opt-out, contact us via accountx@feedburner.com, provide your FeedBurner account Username, and request to have your FeedBurner account deleted. We will contact you at your registered email address to confirm your deletion request before completing it.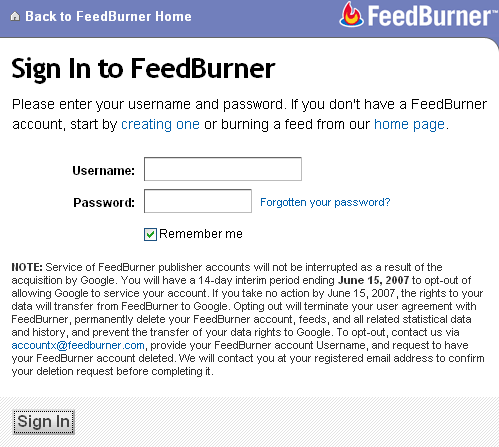 I thought about the implications for a minute.
But then I figured that since Google provide the adverts on these pages they already know what the site says, and how often it is visited.
And, since I use Google Analytics, they already know where my visitors come from, what they look at, and how long for.
And, because I pipe all my currybet.net email through Gmail in order to be able to read it at internet cafes and on my phone, they already read all my mail.
And, as I've been trying out the Web History service, Google also know everywhere I have visited on the internet in the last couple of months.
And, without me even lifting a finger they already know exactly how many people have ended up on the site in the last week or so looking for pictures of this year's breasts in the Big Brother house.
So, having them find out how many subscribers the currybetdotnet and 'A lemon tree of our own' sites have via FeedBurner doesn't seem like too big a deal - although perhaps I should be keeping a closer eye on the debate over Google's Privacy Policy.
Incidentally, if you are interested in this sort of thing, I have a Privacy Statement on currybetdotnet identifying all the third-party services I use on this site and linking to their privacy policies, which I have updated in the wake of the Google acquisition of FeedBurner.