A couple of odd posts started appearing in my amongst my Bloglines subscriptions as I was skimming through them the other day. They seemed very out of character for the blog I was subscribed to - the Newscounter blog.
On closer inspection, it appears that the team behind Newscounter, the site where people are able to respond to criticism about them in the press, have been blog-jacked.

During the beta stage of the site they had a blog on the Blogger platform, which looks to have been replaced by the 'Soapbox' feature on the Newscounter site itself.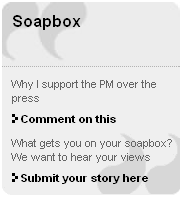 This seems an improvement for them, with it being more tightly integrated into the site - but it also seems a bit of an oversight to have allowed the newscounter.blogspot.com account to have fallen into the hands of what looks like some kind of spammy advertising scam.
The post that alerted me to the bait'n'switch on the account was "The 3 Favorite Mistakes Made by African Webmasters" - quite a change of tone from the usual Newscounter fare.

It did strike me as rather amusing that a site that is all about reputation management should have their blog snaffled by a spammer in this way - particularly when the last post that survives from the blog's first incarnation is from May 4th and called "Getting it wrong".
Newscounter makes mistakes - I'm sure. We misread things, spell things wrong, contact the wrong person or organisation and miss out on stories we should focus on. There may be more (and I'm sure you'll let us know).