I noticed the Media Guardian site had a Dalek illustrating a story today, about how the entertainment industry was failing to protect copyright.
More than half of the CDs, DVDs and computer games sold in Europe have no form of copyright protection on them, new research claimed today.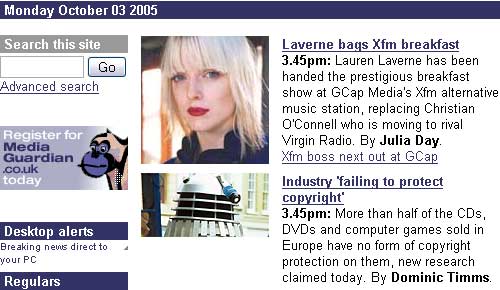 I assumed the Dalek was there as they were going to talk about the pre-transmission leak of opening episode 'Rose'.
However checking the article there is no reference to this at all, so I can only assume that the Media Guardian was subliminally suggesting that the entertainment industry should deploy the Daleks against the pirates.
The study they were talking about found that:
Based on interviews with senior film, games and music executives across France, Germany and the UK, the survey revealed that a staggering 50% of entertainment products, distributed on disks, such as games and DVDs, lack any form of copyright protection.
Personally I'm more staggered that 50% do, though I guess if the default position may have been that DVD's are copy-protected, and clearly a lot of games have the bare minimum of disc-in-player security, that makes the figures add up.
I've made my feelings about the music industry stance on copy-protecting well-known, after all it didn't turn out that home taping killed music. These multi-national corporations cannot have their cake on one hand by forcing consumers down a limited proprietary DRM route and constantly reissuing old material in new expanded formats, whilst wanting to eat it on the other hand by trying to make money with the laptops, mp3 players and gadgets needed to "steal" music. If their business model has been broken by the internet, then just like book-shops and travel agents they need to find a way to evolve and work out the niche where they can continue to make their money.
I wonder how long stories like "Franz Ferdinand album leaks online" will actually still be news. Around a month ago the most recent Depeche Mode single leaked and there was a kerfluffle as the source of the leak was arrested. This weekend you couldn't move on the web for offers to download Depeche's leaked new album, and so far not a murmur of news about it.