Download a print version of this article
A few months ago BBC Broadcast introduced a 'site owners database', which looked at the directories on the live BBC site, and attempted to gather contact information for every area of BBC.co.uk. It is very useful in my day-to-day work, but even more useful because it provides a facility to look for orphan sites - top level directories on BBC.co.uk which nobody has claimed. Some of these turn out to be very old sites that are still available to the public, as long as you know where to look.
I've tried to piece them into a narrative of the development of the site, and each day this week I've been going back in virtual time to expose some of the hidden archive gems of bbc.co.uk. So far I've looked at the Budget 97 site from November 1997, September 1997's Diana Remembered, the Politics 97 site, and the BBC's first online coverage of a General Election. I then took a slight side-step in time and space for yesterday's April Fool post about the BBC having a Doctor Who site for the 1996 TV Movie.
Today I am looking at the surviving aspects of the BBC's online coverage of the 1996 Budget.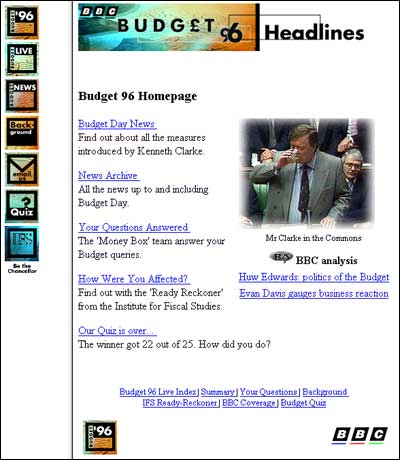 The site consisted of a frameset with a graphical left-hand navigation. Sadly, although the homepage has links to Real Media files of BBC analysis of the budget, the RAM files on the live server are zero length, even though they still exist. The site does though retain an archive of virtually daily economic news stories throughout November 1996 leading up to the Budget.
The use of the framset presents us with something I believe to be unique on the current BBC.co.uk service. One of the components of the left-hand navigation is a link out to the Institute of Fiscal Studies. This opens up in the main frame, with no interstitial or disclaimer. I don't think there can be anywhere else on the live BBC service that you can open up a link to an external site which will appear as part of a bbc.co.uk page.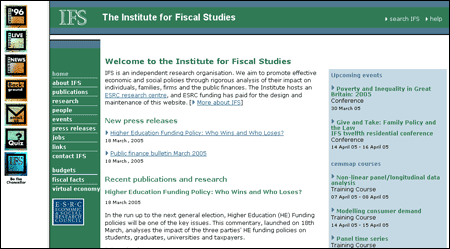 Tomorrow is the last in this series, when I'll be examining what I think is the oldest content on the BBC's live web servers.