Diana Remembered on BBC.co.uk
Download a print version of this article
A few months ago BBC Broadcast introduced a 'site owners database', which looked at the directories on the live BBC site, and attempted to gather contact information for every area of BBC.co.uk. It is very useful in my day-to-day work, but even more useful because it provides a facility to look for orphan sites - top level directories on BBC.co.uk which nobody has claimed. Some of these turn out to be very old sites that are still available to the public, as long as you know where to look.
I've tried to piece them into a narrative of the development of the site, and each day this week I've been going back in virtual time to expose some of the hidden archive gems of bbc.co.uk. Yesterday I looked at the Budget 97 site from November 1997. Today it is the turn of a site that would have been built in September 1997 - Diana Remembered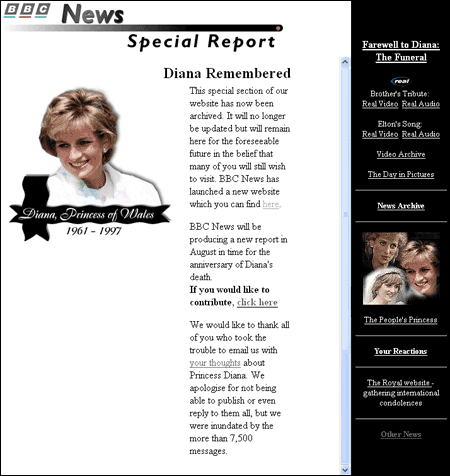 The first thing to note is that the site uses a frameset. This is a complete no-no nowadays for the BBC. Unfortunately not all of the links still work, notably the Real Media links on the right-hand navigation through to footage from Diana's funeral. There are though still a whole series of stories from September 6th, describing the funeral, and even a review of the newspapers of the day. There still exists some user-generated content on the site - where some of the 7,500 messages the BBC received are reproduced, and all of the assets remain for the picture gallery.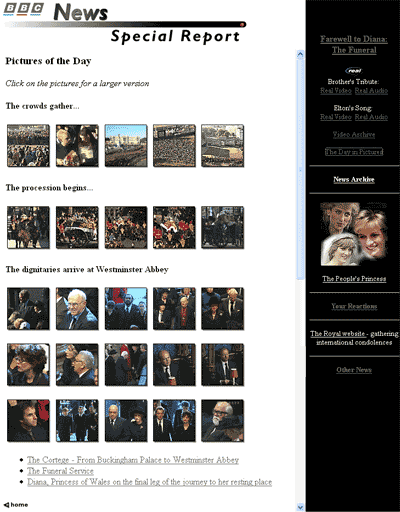 Tomorrow I'll be looking at another abandoned area of the BBC.co.uk servers - this time one that covers the majority of 1997.