All your EuroIA 2011 slides are belong to us

Welcome once again to my probably futile attempt to gather together all the EuroIA slides, resources, poster sessions, and blog posts into one place. If you know of a resource I've missed, then drop me a mail at martin.belam@currybet.net or ping me on Twitter - @currybet.
All your EuroIA 2011 slides are belong to us
Workshops
Posters
Elsewhere on the web
In the archives...
As the list is building up, you might find that you are also interested in having a quick flick through:
I also blogged the recent Content Strategy Forum in depth, and you can download my notes from talks by speakers such as Karen McGrane, Gerry McGovern, Erin Kissane, Eric Reiss and more as one printable PDF or in epub format for iBooks
And why the bad grammar in the title?
Way back in the steam-powered days of the internet, i.e. around about 2000, "All your base are belong to us" was an internet meme based on a bad translation of some text in the Japanese video game Zero Wing.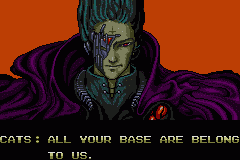 This is one of a series of blog posts about EuroIA 2011 in Prague. You can download all of the blog posts as one printable PDF or for iBooks.

All your EuroIA 2011 slides are belong to us
"Designing today's web" - Luke Wroblewski
"The IA of /Culture" - Martin Belam
"Navigating the Digital Spice Route" - Terry Ma
"Extending the Storytelling - Blending IA and Content Strategy" - Boon Sheridan
"Pervasive IA for the Sentient City" - Andrea Resmini and Luca Rosati
iPads, kids and design lessons for adults - Wouter Sluis-Thiescheffer & Brian Pagán
"Understanding the Nature of Resistance" - Alla Zollers
"Does a Rich GUI Make the Bank Richer?" - Haakon Halvorsen & Kjetil Hansen
"Designing for Everyone, Anywhere, at Any Time" - Anna Dahlström
"Truth and Dare – Out of the Echo-Chamber, into the Fire" - My critique of Jason Mesut at EuroIA 2011
"The Rise and Fall...and Rise Again of Information Architecture" - Bob Royce
"Fill in the IA gap" - Mags Hanley

You might also be interested in:
All your IA Summit 2011 slides are belong to us
All your UPA 2011 slides are belong to us
All your EuroIA 2010 slides are belong to us