The vandalism of the BBC's online history
With all the news about changes to BBC Online, the thing that had caught me eye was the deletion of lots of sites that had already been mothballed or archived in a previous round of BBC cuts. I was going to write a blog post about how that seemed rather arbitrary, and that it probably costs more money to hunt them down and destroy them than it would to just leave them sitting on a disk somewhere gracefully degrading.
Fortunately, Darryl on the 853blog has already written that post, so I don't have to - "Pulling the plug on the BBC's internet history". Well worth reading.
The theme of archiving BBC content is something I've blogged about several times before, and I thought it might be useful to recap and link to some of those posts.
In 2005, when I still worked at the BBC, I wrote a series of posts looking at the oldest content that still existed on the BBC's servers. At that time, it included the Budget 97 site, Diana Remembered, Politics 97, Election 97, Budget 96 and Budget 95.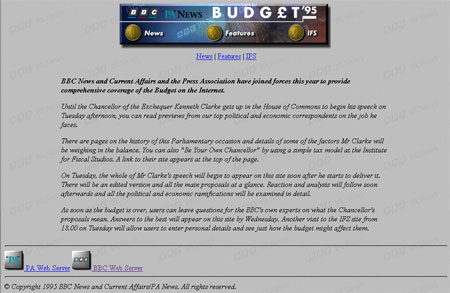 In 2007, I wrote a blog post for the BBC as part of 10th birthday celebrations for the website, looking at the problem of archiving internet content: "Mind The Gaps: The BBC's Website Archives".
In September last year I wrote about whether preserving the precise user experience of the web at any given time was actually important provided the content survived, and I've also wondered about how in the future we'll be able to articulate the dense narrative and pop culture references of games like GTA. It is also an issue I think about at the Guardian, where our print World Cup archives are much more faithfully reproduced than if you visit the web pages we produced in 2002 and 2006.
Back to the BBC though, and I'm really not sure who benefits from deleting the Politics 97 site from the BBC's servers in 2011. It seems astonishing that for all the BBC's resources, it may well be my blog posts from 5 years ago that provide a more accurate picture of the BBC's early internet days than the Corporation does itself - and that it will have done so by choice.
I can't help thinking that in 10 years time there will be comparisons with the short-sighted junking of 60s TV shows - including Doctor Who episodes - that was done in the 70s to save money and space.