John Peel Day on Flickr and the BBC Homepage
Yesterday was "John Peel Day", which shared top-billing on the BBC homepage with Margaret Thatcher's birthday on the homepage.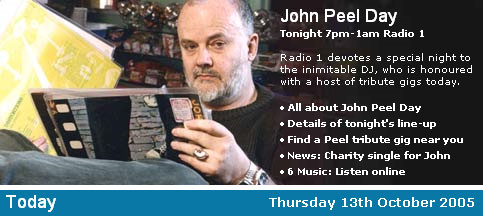 The Radio One site has got heaps of content from around the day - and you can listen again to the John Peel show. One thing that really caught my eye was the prominence given to gathering together photos from events all around the country.
If you've got photos of your the gigs you've been putting on, we'd love to see them! This link will take you to Flickr: Upload your photos now!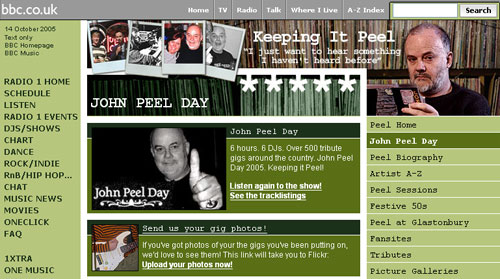 I was so impressed that they decided to simply link to a John Peel Day Flickr group. Two years ago if you had wanted to make a real-time gallery of user-generated photos on a BBC site, we probably wouldn't have done it - too many questions, what about the moderation, what about the risk, etc etc. A year ago we *might* have done it, but maybe we would have tried to build a closed photo submission site similar to the A Picture Of Britain site and had moderators on hand to check the submissions. This year the Radio 1 team just linked out to Flickr, which is brilliant.
It is really heartening to see the BBC site become more open to being involved with using these kind of external sites and applications to connect the BBC's audience with each other, and perhaps more importantly, to connect our audience with these kind of services.