BBC Homepage Coverage of the South Asia Quake
The BBC homepage has been providing an additional panel this week for in-depth coverage of the unfolding earthquake disaster in Asia.
The panel was launched on Monday, and carried links through to the Have Your Say section on News, as well as a special reaction site prepared by the BBC's Asian Network. It also carried a link through to Wikipedia's growing resource on the Kashmir Earthquake.

On Tuesday the panel was changed, and once again featured a direct link through to the Disasters Emergency Committee site where people can donate to the relief fund.

It saddens me that we had to repeat this so soon. We did this for the first time ever when we introduced this panel in January to try and drive through donations for the victims of the tsunami in Asia that happened over the Christmas holiday.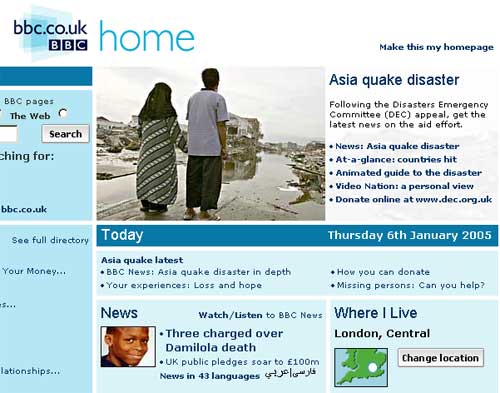 Over at BBC News at the weekend they used their new splash front page format for the first time.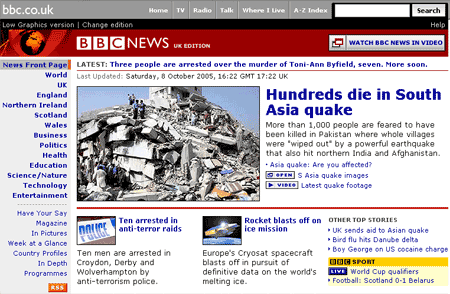 In Pete Clifton's most recent From The Editor's Desktop column he had written:
Lots of you e-mailed after I revealed our plans to use a "splash front page" the next time a really big story breaks. The new template will allow us break from our traditional format and devote more space to the event.

Many of you wanted a sneak preview of what it would look like. So here is one example. And don't worry. To answer your other concerns, we won't be using it that often and it won't mean we stop pointing to other stories on those days.
Sadly events overtook my colleagues wishes that they would seldom have to use these kind of formats to cover these kind of stories.