Optimising blog design for the reading experience
In a blog post last week about Brendan Dawes' presentation at dConstruct called "Boil, Simmer, Reduce", Adam Tinworth cited currybetdotnet as an example of a trend towards stripped down blog design. It was a funny coincidence, because the current design is due to something that happened whilst I was watching Brendan earlier in the year.
It was the day that I was at Future Of Web Design in May that my blog post about train staff bullying my wife exploded across Twitter. With my server being hammered, my technical support network of a bunch of brilliant software developers I've worked with over the years gave me some tips to keep it up and running. One of those was to serve a plain text version of the specific article, to reduce the number of requests and bandwidth required to serve that page. I did that, but it looked a bit rubbish - like a USENET post or mailing list digest.

So I added a few lines of CSS, and a Share button, and a little bit of navigation at the foot of the page, and ended up with this.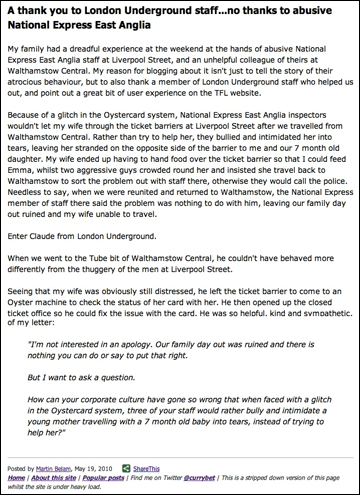 And that is when I had 'the revelation'.
On any given day, the vast majority of traffic on this site heads to one or two posts. It happens because the links are being shared on social networks, the post is at the top of the RSS feed, or because it is ranking well as a recent post on a topical query. And all those people want to do is read the one article that they've been directed to.
So why not just optimise the experience for reading the one article, and remove all of the blog furniture and clutter? The previous design was pretty minimal, but I thought I could take it further.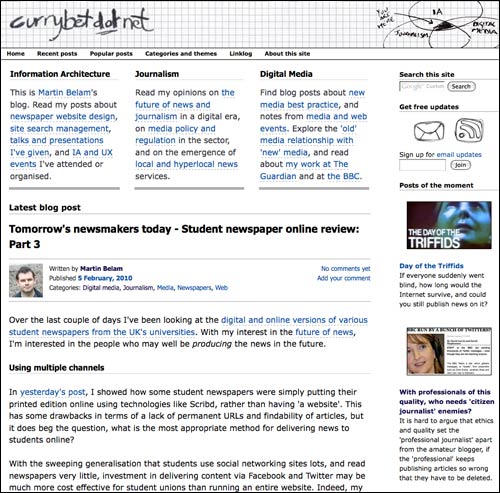 I've stopped carrying adverts, so I'm not desperate to drive people to a second click. I'm not actively looking for freelance work, so I don't need to push people towards my About page or CV. As Brendan Dawes was urging at dConstruct, I can 'boil down' the functionality and visual design to a very basic: "Here is the article you wanted to read".
The new page layout isn't without flaws. For example, I miss the ability to promote recent high-performing articles across the site, which I used to do in the right-hand column, but on the whole I am very happy with it.
I owe a debt to Jim Ramsey, whose 'Pico' microblogging theme ships as one of options with the latest version of Movable Type. With just a few tweaks to the CSS, mostly to up the font size of the body of an article, I've ended up with a blog that looks closer to viewing articles on Instapaper or on an eReader, than one with a busy and fashionable Wordpress theme.
I've been very taken with the recent focus on the 'reading experience' of things like Instapaper or Readability or Today's Paper or Safari reader mode, and I think as HTML5 mark-up becomes more prevalent on news websites, we'll see more of these kind of views of articles in the future.