Let a million data structures bloom...
I didn't go to dConstruct this year, but it has certainly made plenty of ripples. And there was one slide in particular which I thought I should respond to...
And rather like Cynndd's response to that UX debate on Monday, my response might just surprise you.
Because I pretty much agree with 99% of everything Tom Coates said in Brighton.
He made a passionate argument that the networking protocols that have bought us the Internet are the equivalent of investing in massive infrastructure projects like roads. It isn't the road that transforms society, but what is enabled by the traffic. And the traffic on the network is increasingly not web 'pages', but data built up from the way that people use services, both as part of browsing the web but also part of using data-enabled devices in the physical world.
But "Death to the semantic web" is certainly an eye-catcher of a slide.
I wouldn't go that far, but one thing that has concerned me with the Linked Data ecosphere is that it is mostly being driven by academic research rather than real business applications. It means that there is an expectancy that everything will be perfectly marked up, be right, validate 100% against the standard, and be free from spam and malicious intentions.
Well, I don't know about you, but I haven't seen that hope come true anywhere else on the web, so I don't see why that should start now.
What does work on the web is...well...things that work.
Some data standards just have to be 'good enough' rather than perfect. Tom cited Lanyrd as an example of something that could be rapidly put together using loose data exchange on the network, building services on top of services. The work Glenn Jones has done on "Re-using data people have left around the web" is also another example of building things on some rough-and-ready half-implemented microformats, that don't require boffins and OWL and SPARQL and ontologies and all that jazz.
However, I don't see the necessity of Tom's distinction between 'the semantic web that must die', and 'the web of joined data' that he champions. There is no reason why we shouldn't be striving to produce structured linked data and RDF and semantic web technologies where appropriate. The more metadata the merrier. Nor is there any need to unpick the Linked Data cloud just because it doesn't feel agile enough.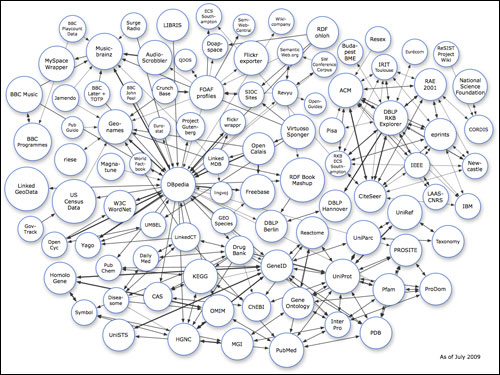 To my mind, the top down perfect linked data solution and the bottom up re-use of data to build things greater than the sum of their parts will happily co-exist, in the same way that a service like Flickr uses industry standard EXIF data and human-supplied 'folksonomy' metadata and geodata to compile meaningful data about a photo. One is a standard, and the other is subject to uncontrolled synonyms, abbreviations, colloquialisms and misspellings. But together they work.
And that is, after all, the end goal - a web of data that works for end users, regardless of the technologies underpinning the data.
You can listen to Tom's excellent talk, and all the presentations at dConstruct, on their podcast page, and you can download a PDF of the original slides.