The two-sides of Wikipedia
It seems like sometimes Wikipedia can be its own worst enemy.
I was singing the site's praises last week. I'm trying to arrange some evening dates in August, and I wanted to make sure that I didn't miss the chance to laugh at Tottenham failing to get through the opening qualifying round of the Champions League. So I headed to UEFA.com to find out the dates for next year's competition, without success. Their website is still all about this season, and the calendar is all about matches in the past. Presumably the new dates won't appear until some co-ordinated press launch for the competition later in the summer. Wikipedia, of course, already has a page for the 2010-11 competition in place, with all of the dates for the rounds and just the information I needed.
So, Wikipedia 1, UEFA 0.
However, today I was presented with the worst side of Wikipedia.
I was looking to put some slides together to illustrate the principle of using linked data and MusicBrainz IDs together to aggregate content. I decided to use Swedish band First Aid Kit as my example, as they have a name which is an ambiguous search term, and, in fact, they aren't even the only band called First Aid Kit. It should have been a great example of the power of the unique MusicBrainz ID.
And then I found that their Wikipedia entry has been deleted, because the article didn't 'indicate the importance or significance of the subject'.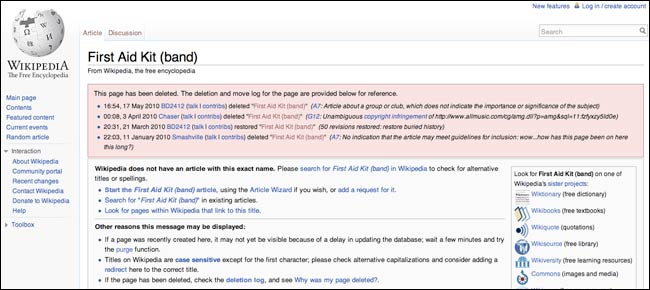 Type 'planet endor site:en.wikipedia.org' into Google, and you'll find that Wikipedia still has plenty of room for multiple entries referencing a fictional planet in the Star Wars universe, including a 1,000 word entry on the 'Chewbacca defense' about a 15 second segment of one episode of South Park.
But First Aid Kit clocking up over a million YouTube plays of their Fleet Foxes cover version, playing festivals all over Europe, and releasing two albums doesn't qualify them for a Wikipedia entry anymore, because the person/people who wrote entry didn't pay enough attention to proving their wider significance. Bonkers.
Anyway, the strength of Wikipedia is that it is self-healing right? I can just easily correct a problem on the site, yep?
Well, not once an article has been deleted it seems.
In order to restore an article about a real-life band who sell records, are a 'YouTube sensation', and have lots of press coverage, it seems that I have to spend time entering a debate with the person who deleted the article, to try and convince them that they were wrong. Only an administrator can overturn a 'speedy deletion'. In the meantime, the fact that the article has been deleted breaks pages that rely on linked data like the First Aid Kit BBC Music page.
So, Wikipedia rules & etiquette 1, useful web reference 0.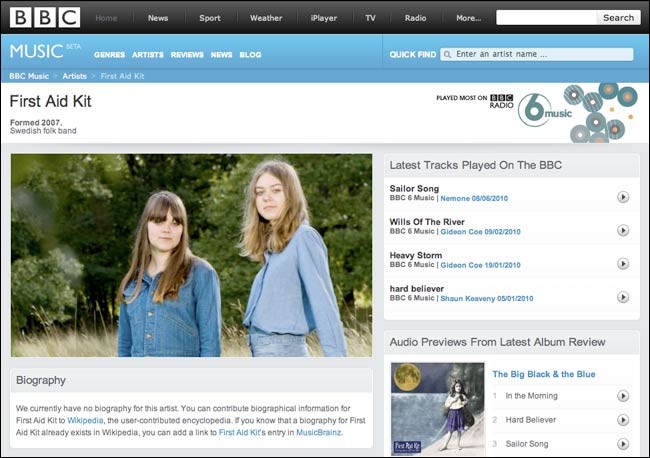 It really shows the two sides of Wikipedia. On the one hand, a wonderful resource where information gets published well ahead of the old style controlled drip-drip of embargoed sports fixture details. On the other, a site where the whims of one established Wikipedian can wreck useful resources around the web, because they delete articles based on internal Wikipedia logic, rather than on doing research.
Anyway, to cheer you up, Wikipedia entry or no Wikipedia entry, here is the beautiful 'Tiger Mountain Pleasant Song' from the band's YouTube channel.
UPDATE: A helpful Wikipedia admin saw this blogpost and restored the band's page - thank you :-)