The UX of moving house: Part 8 - BT's customer service on Twitter
Over the last two weeks I've been writing about the user experience of moving house when trying to utilise online tools to do a lot of the work. On the whole, whether it has been poorly optimised estate agent search, registering for council tax, or appalling customer service from Sky, it wasn't a happy one.
It is sometimes a lot easier to be critical of things rather than constructive - and I make no apology for that. In the recent survey I did amongst currybetdotnet readers, pointing a things people have done badly on the Internet and saying "That's rubbish!" was one of the most popular things that this blog does. However, moving house did have some really good user experiences and good bits of service design in it.
I've had issues with TV Licencing before, but for moving house the process was simple. I filled in a form online, and shortly recieved a confirmation email. Subsequently, when my TV Licence expired and a new one needed to be issued, it duly arrived as a PDF with the correct new details on it. The Co-Operative Bank rightly wouldn't let me change address online, but a quick phone call was all it took to change our details on all of our accounts. Thames Water were also very efficient in changing our account over - although they've subsequently kept sending us letters 'To the occupier' threatening to disconnect our water supply which is never encouraging! Be Broadband were extremely helpful and efficient.
Customer service on Twitter
One very positive customer service experience I did have was with BT via Twitter. Without going into the whole saga, my order to transfer our telephone line from our old flat to our new house was mired in confusion. The initial order was cancelled without me being informed, then after I had a 40 minute phone call to BT, my wife received a completely contradictory message about the situation. I moaned about it aimlessly on Twitter - as you do - and then BT's "Twitter team" pro-actively stepped in to help solve the problem.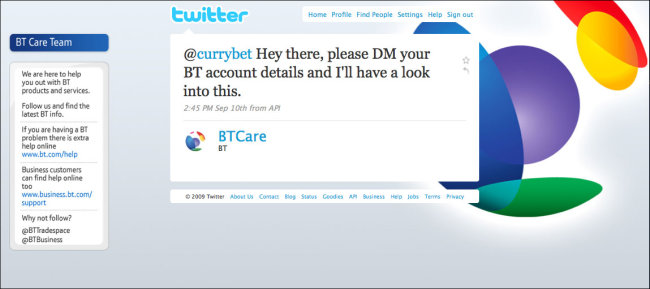 As a customer service route this might not work for everyone, but it certainly worked for me. Why? Well, obviously I'm a technophile and twitterholic, but more importantly it meant I could keep the conversation with BT ongoing without being noticeably on hold on the phone at work trying to sort out domestic issues yet again.
The BT Twitter team were incredibly helpful, contacting me directly by phone as well as online, and sorting out an engineer's visit when it emerged that as well as the problem with the order, there was also a problem with the physical phone connection in the house.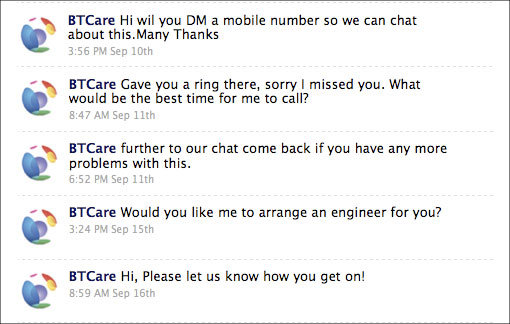 At the end of the process, they also contacted me via Twitter to ask me to fill out a customer satisfaction survey, and I was realy happy to give them top marks. Although my contact with them had started because I was unhappy with how BT were handling my account, by monitoring for their brand on Twitter and stepping in to help, they changed my customer experience from being a negative one to a positive one.
One final nice touch about how they are using Twitter - although they use the generic account name @BTCare, they change the bio to reflect who is actually on duty manning the account. It is a small detail, but an interesting way of trying to bridge the gap between corporate usage of a personal communication medium.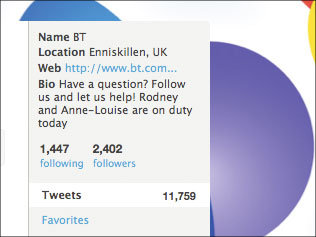 Conclusion
It seems like there is still considerable work to be done in getting working online experiences and overall service design in this area. From basic webmaster errors like not optimising image filesizes on estate agent websites, to major user flow failures like not being able to register as a new council tax payer in Waltham Forest, during the course of our move I encountered problem after problem after problem.
In one sense this is quite depressing - clearly a lot of money has been invested by businesses small and large, and by the taxpayer in these services. In another way though, I look upon it as encouraging me that the user experience and information architecture communities still need to be out there every single day, evangelising best practice in user experience design.