The Mirror re-design review: Part 2
Yesterday I started a review of the recently designed Mirror.co.uk site. I was impressed with the way they had organised links to content in a site map at the footer of the page, but less than enamoured of some over-enthusiastic colour-coding, and a 'gambling strip' across the top of every page. Today I wanted to look at the site's use of tags.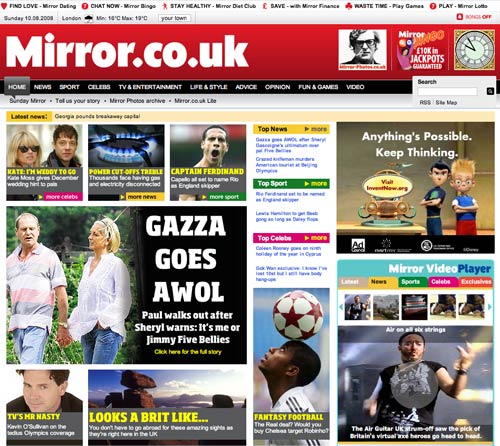 Story tags
The Mirror applies a selection of tags to each story to provide lateral and related navigation. These are displayed in a small panel to the right of each story. These are the tags from a Martin Fricker story claiming that Portuguese police tried to bug the McCann family.

Each tag link leads through to an aggregation of stories on that topic, and there is also a help link leading to a tag index page. This gives a brief explanation of how The Mirror uses tags.
"A tag is a keyword or term associated with an article, video or image. This tag describes the item and enables you to retrieve information (be it articles, videos or images) by tag.

For example an article about Arsenal winning the league could include the tags 'Arsene Wenger' and 'Premier League'. Clicking on the tag 'Arsene Wenger' (next to the article) will bring you all the information on the site that has used that tag. "
There is also a tag cloud showing the most used tags on the site, which gives an interesting overview of The Mirror's editorial priorities.

Intelligent tag 404 error pages
One nice touch is that if you guess the URL of a tag that doesn't exist, instead of getting the regular 404 page from the site, you get a custom page for the missing tag, e.g. monkey tennis.

The law of unintended consequences
The Mirror appears to be automatically building lists of 'related tags' which are displayed on a 'tag' page. This can, as with every automatic system, have unintended consequences. Take the 'porn' tag page for example. The 'related tags' box lists people associated with the paper's stories about 'porn'.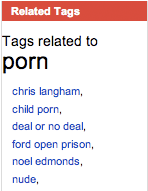 Undoubtedly the Chris Langham child porn case was a major story in the UK over the last couple of years, but I'm unsure that editorially you would associate his name with every future story about 'porn' in print. Nor, I'm sure, is Noel Edmonds that happy about being 'related' to porn on the strength of a couple of contestants on 'Deal Or No Deal' having posed nude.
Lax taxonomy
One concern I have with the Mirror's tags is that there seems to be little control on their vocabulary. For example, you can find stories about the 2012 London Olympics tagged as '2012' and as 'London 2012' and '2012 Olympics', which should perhaps be merged into one tag.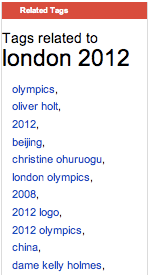 There are also some odd choices of keyword for the tags. A story about the departure of a large number of Coronation Street characters is tagged 'cull'. I'm not sure about how useful the corresponding tag page is, featuring a disparate bunch of stories about soap actors, farm animals and seals.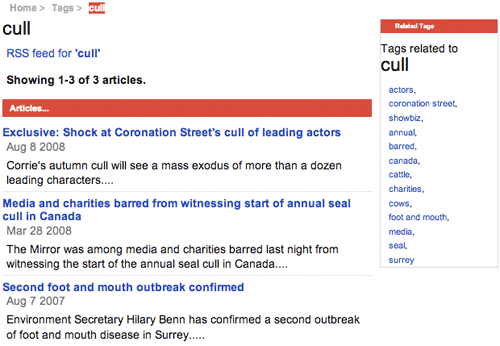 The McCann bugging story I mentioned earlier has some tags that seem very specific to that story, and it is hard to see how they will be useful aggregation concepts - 'bug mccanns' and 'rented out apartment' for example.
Tagged archive
A lot of newspaper re-design or CMS upgrade projects can end up becoming massive content migration projects. The Mirror has articles online going back to February 1999 - and the tagging appears to have been retrospectively added.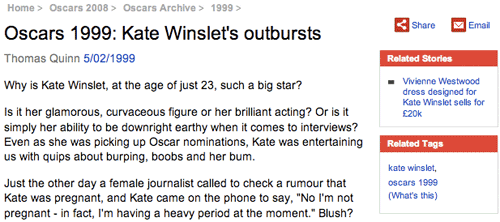 Tag RSS feeds
The most positive feature of The Mirror's tagging implementation is that every tag page has a corresponding RSS feed.

This is great for allowing people to track, at a granular level, the story topics that they are interested in. It is great from a content management point of view as well - nobody has to manually set up new feeds for events like the Olympics, or move the Hull City feed from the Championship to the Premiership by hand, because the tags handle that automatically.
Next...
In the next part of this series, I will be looking at a couple of aspects of site search on The Mirror's new design.