Sony closes the door on the European CONNECT store
With an irony that even Alanis Morissette couldn't mistake for being unlucky, just as I've written a lengthy blog series about the closure of one music store where I used to work, another music store that I used to do work for has announced it is shutting down - Sony Connect Europe.
The circumstances are a little different - one went bankrupt, the other is a strategic pull-out from a market area where Sony was simply unable to compete with Apple.
Last week Sony sent an email to Connect users announcing that the service was to be phased out from early 2008.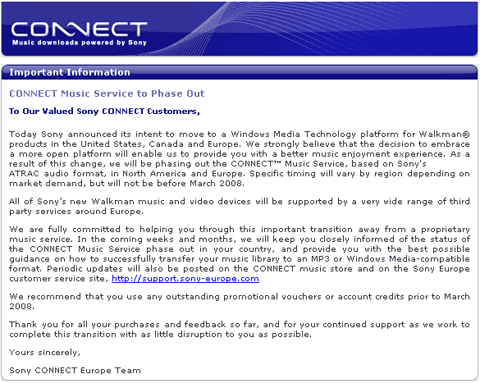 One slightly curious line in the email stated that:
"We are fully committed to helping you through this important transition away from a proprietary music service."
Whilst this is a bit better and more honourable than Google managed with their DRM-endowed video service, I'm sure there will be quite a few people out there scratching their heads and wondering how exactly an:
"intent to move to a Windows Media Technology platform for Walkman® products in the United States, Canada and Europe."
is non-proprietary.
In theory, the online music market ought to have been quite simple for Sony.
They own the content through their record labels, and they own the hardware through their manufacturing base, so gluing the bit in-between, the online store, should have been easy.
However, they were late to market, and insisted on using the ATRAC format and SonicStage software to manage the transfer of music to the devices.
When I worked on the Sony CONNECT music store, the main design constraint was that it had to work as an embedded 'web' window within the SonicStage software.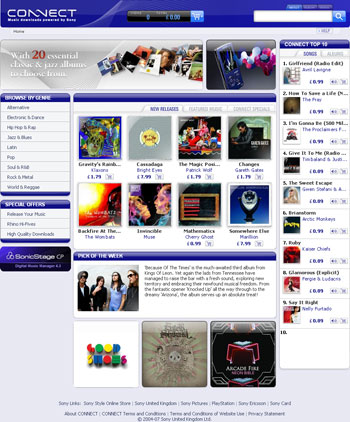 That pretty much ruled out doing anything really interesting on the store front, and also meant that all of the navigation on the page had to work as stand-alone navigation, and within the SonicStage context of having additional application navigation and functionality around it.
The SonicStage software is apparently popular in Japan, from where all the design and product management is done. However, it did not seem to suit the European market at all, and was a real-life example of where localisation on a product needed to extend far beyond simply translating the text on the buttons.