Chipwrapper gets a rugby edition for the world cup
On Monday I went public with a new project I've been working on - Chipwrapper. It is a search engine for UK newspapers (plus, as Lloyd eloquently put it "some other stuff").
One of the features is a headline aggregator, and feeds of the headline aggregation covering news, sport and football.
With the Rugby World Cup opening in France tomorrow evening, it seemed appropriate to add some Rugby flavoured content into the service.
To that end there is a new 'Rugby Edition' of Chipwrapper.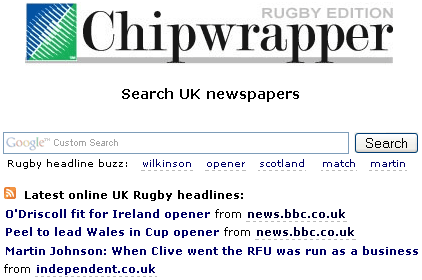 The search box doesn't lead to a rugby specific search engine, but the headline feeds are 100% rugby. I've only been able to include those broadcasters and newspapers who actually provide a rugby specific feed, which means that you'll miss out on content from The Sun, Daily Express, Guardian and The Times. I've added two headlines from planet-rugby.com into the mix to beef it up a little.
There are a couple of major omissions.
Sky Sports do provide a rugby specific RSS feed, but at the moment they keep occasionally doing something weird with it, and stuffing the title element in the XML with unparsed HTML links. In the short-term I've simply adjusted my scripts to drop Sky when they do that, rather than having odd snippets of their HTML on the Chipwrapper Rugby Edition page, or in the Chipwrapper feeds.
ITV are also missing from the Chipwrapper Rugby Edition. Frustratingly, despite having exclusive rights to broadcast the tournament in the UK, and providing their own constantly updated rugby news site at www.itv.com/rugby, there is no headline feed for Chipwrapper to use.
The 'headline buzz' on the Chipwrapper Rugby Edition is also specific to the sport - although at the moment it seems to mostly show up that I need to do something with it to do name detection, rather then keep splitting England's main obsession up into 'wilkinson' and 'jonny'
And, given the dispute and boycott that has blown up today, I guess it is just as well that Chipwrapper doesn't include any news directly sourced from agencies.