Reckless Records RIP - Part 8: Future Sound Of London
(or "Everything I know about second-hand record retail I learnt by being rude to customers at Reckless Records" by someone a bit like that bloke in 'High Fidelity')
In the last week or so I've been writing about the time I spent in the 1990s working for London based secondhand record retailers Reckless Records. This week I've been explaining how I used to be able to work from home on the company's website, and recalling when the shop was featured on CNN, but prior to that for some time I was a branch manager in Soho.
The branch at 30 Berwick Street was always the flagship and busiest branch of Reckless in the UK, so I was very excited, but a bit intimidated, to start working there in 1995.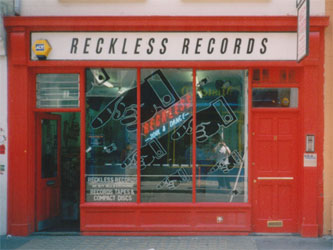 And I didn't feel less intimidated when, on the very first day that I was manager of the Soho branch, a regular customer and obvious headcase, Greg, threatened to stab me if I didn't buy his crappy soul albums.
What an introduction.
The Soho branch of Reckless was primarily known for selling dance music, with a rapid turnaround of pre-release promos on vinyl for DJs. This was not the ideal environment for an alt.indie kid like myself, although I did get to hear a lot of interesting electronica coming out at the time, and meet some of the people making it.
One thing I definitely still miss about working in record shops was the feeling of being part of a scene. I used to go and watch a couple of the guys from the shop when they DJ'd, particularly a guy who went under the name DJ Spykid and at the time was recording as part of 'Echo Park'.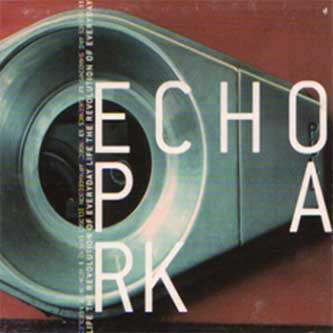 Most of the staff working in the shop DJ'd, or were in a band, or at the very least knew or lived with a DJ or a band, and so I got to meet loads of interesting people.
I also got to start DJing myself, and used to do a semi-regular slot in Shoreditch, playing downtempo electronica in a lounge bar, and also occasionally playing out in Islington as well.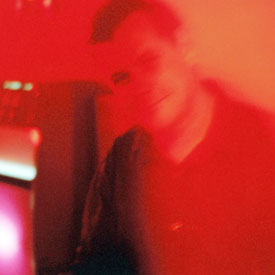 And of course, the very best thing about working in a second-hand record shop was getting first pick of any goodies that were sold in.
We used to get most albums well in advance of their public release, since we had a regular group of journalists and reviewers who would dump all their unwanted freebies on the shop in return for stuff they actually wanted to listen to.
It was only a couple of weeks after I started working in Berwick Street that we got the 2nd Oasis album before it was released. It was obvious it was going to be massive on first listen, and we were well chuffed that the cover shot on "(What's The Story) Morning Glory?" had been taken on Berwick Street. You could just make out Reckless Records on the front of what was destined to be one of the year's biggest selling albums.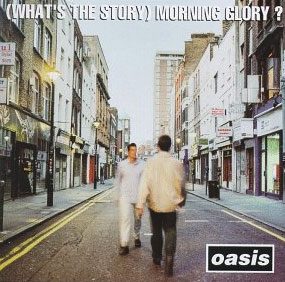 I still remember some of the really rare records that I let slip out of my hands though, like a copy of a bootleg live album from The Fall, an acetate that claimed to be an unreleased remix by The Orb of a track by U2, and one of the earliest coloured vinyl albums. This was of rare location recordings of African tribal music made in the 40s and 50s I think, and the record played from the inside-to-out. It was eventually sold to Jonny Greenwood from Radiohead, who haggled with me over the £50 price tag.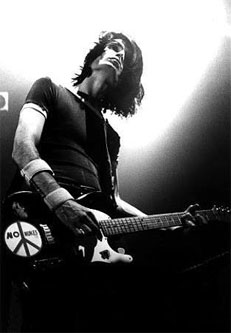 The most expensive record we sold during my time at Reckless was an unreleased test pressing of a compilation by The Rolling Stones from the late 60s / early 70s era, called 'Necrophilia'. The person who bought it flew from mainland Europe to London specifically, and paid something like £6,000 in cash for it.
We used to get some great correspondence by post to the Berwick Street shop.
Often people would send us their unsolicited 'Wants' list. For some reason these were almost invariably hand-written on graph-paper
I've no idea why.
People from all around the world would painstakingly write down lists of the exact format of Polish or Belgian or Japanese 7" picture sleeves of Queen singles they needed to finish their uncompleteable collections.
I never understood how they expected a busy retail outlet in the heart of London's West End to collectively keep a note of what was going on, so that when that impossible to find promo only 12" mix of something by the Pet Shop Boys appeared in the store, we'd all instantly know to say:
"Ah-ha, that is on Klaus from Munich's wants list, isn't it? Instead of putting it on sale in the shop, let us write him a letter to see if he still wants it."
However, it did sometimes pay off for the customer. We once got a letter from New Zealand asking us whether we had any rarities by David Essex. As it turned out, I'd once been given by a friend a signed copy of the David Essex album 'All The Fun Of The Fair'.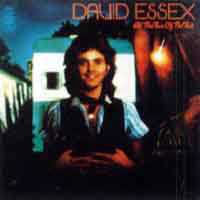 I wrote back to the woman who had written to the shop, and personally offered her the album for sale. She was coming to London later in the year, and so we arranged to meet and she bought the album from me.
Only a couple of years or so later the whole transaction could have been carried out online using eBay. It is no wonder that shops like Reckless have gone under. When I was trying to generate money for our travels and move to Greece I was able to sell all of the very rarest items I had in my possession myself using the internet, cutting out the secondhand shop middle-man, and cutting into their profit margins.
One other letter that we received at Reckless really sticks in my mind, because we burst out laughing when we opened it, and it was pinned to the noticeboard for a good while. It came to us from the USA, and opened with the immortal line:
"To whom it may concern, my name is Cortes Broadknax III"
We never remembered what he wanted, but none of us could ever forget the name.
Next week, I'll continue with this series by having a look at the often fraught relationship between Reckless staff and the shop's customers.