Reckless Records RIP - Part 3: High Fidelity
(or "Everything I know about second-hand record retail I learnt by being rude to customers at Reckless Records" by someone a bit like that bloke in 'High Fidelity')
This week I have been writing about my experiences working for Reckless Records in London during the 1990s. Yesterday I was writing about the relationship the shop had with Record Collector magazine, and the perils of under-pricing very rare records.
The Islington branch of Reckless is generally thought to be where local Arsenal fanboy Nick Hornby got his source material for the successful book 'High Fidelity'.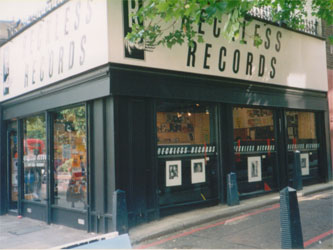 I still genuinely believe that one of my ex-girlfriends read the book, and recognised me as one of record shop losers contained within the pages. Rather than take pity upon me, as the cover review suggested she should, she dumped me instead.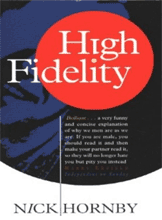 When they made the film of the book, the British premiere took place at Islington's Screen On The Green cinema, and the after-show party was held in the Reckless shop itself.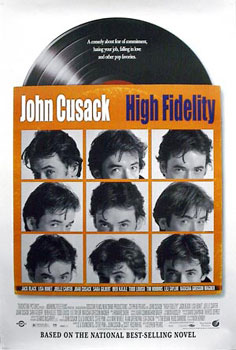 There were strictly no miserable record shop staff allowed however.
When I wasn't in the store emulating the Jack Black character in that film, I used to spend most of my lunch hours either in a greasy spoon cafe on nearby Cross Street, or sitting around on Islington Green.
In fact, on more than one occasion I fell asleep on Islington Green during lunch.
Once I was woken up by some well meaning bloke offering me some casual labour work on a building site down the road. He then got a bit shirty with me when I kept insisting that it was OK thanks, I had a job, I work in that record shop over there. In the end he went off in a huff, seemingly convinced that I was some kind of delusional fantasist.
And of course, working in a mail order department of a shop had more downsides than just occasionally being mistaken for someone who was homeless and short of cash.
I saw far too much of the inside of Upper Street's post office for a start. Although I suppose I did get to skive outside it, having a ciggie, quite a few times each week.
Every now and then something would go wrong - I'd send the wrong LP to the wrong person, or something would just get lost in the post. I particularly remember the purchaser of a rare early red label version of The Beatles 'Love Me Do' 7" reporting it being "lost" in the post.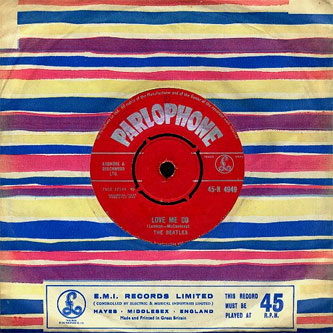 One way or the other I knew that either someone at the Royal Mail or the customer had scammed us, but we were powerless to do anything about it, and ended up £100 the poorer for it. We always paid a bit extra to have the items 'insured', but never managed to successfully claim anything back for lost items - it always somehow seemed out of the Royal Mail's control when things went wrong.
The layout of the mail order department downstairs in the Islington store sometimes caused trouble as well.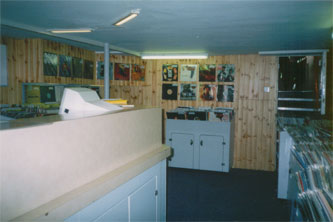 All of the retail computer terminal screens in the shop were positioned so that they couldn't be seen by customers.
Except one.
The one that I used in the basement.
This could be a real problem if customers ever got to see the 'personal' details that were maintained about them on the company database.
To sell second-hand records, tapes or CDs to Reckless, the shop insisted that a customer produce two forms of ID with proof of name and address. These were recorded in the shop's admin system, alongside an 'any other' field. Staff would often be quite frank on this field, warning other staff with comments like 'I think this guy is a thief' or 'Always argues about prices', or 'Smells of piss'.
Or, in one case, 'Wig wearing wanker'.
Unfortunately, the wig wearing wanker got to see this for himself whilst I was in the middle of a transaction with him on the only terminal that could be overlooked!
We got to know some of our more 'exotic' customers rather too well, like Ben the crazy Jewish lawyer, or Malcolm, who used to dance naked for Danielle Dax, or Barry, the man obsessed by albums released on the Vertigo spiral label.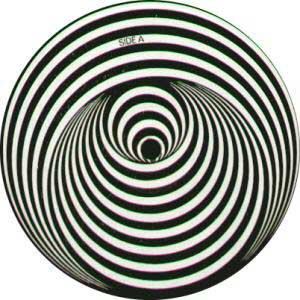 However, we also had a few regular customers that we never got any identifying documents from, but who we, in order to keep the paper-trail going, invented a persona for.
One of these was 'Wee-Wee Reggae Man'.
He used to come into the branches in Berwick Street once or twice a week, and buy a second-hand reggae 7" single.
Actually, that isn't strictly true.
What he used to do was come into the store every other day, clutching the 7" single he had bought last time, and then explain that he didn't like it, so could he swap it for another one.
For a while staff would argue with him that they could only buy it back for two-thirds of the price in exchange.
But ultimately, we learnt that it was easier to just let him use the shop as a lending library, one £1.99 reggae 7" single after another, since he always brought them back in reasonable condition, and, perhaps more importantly, it minimised the amount of time he was in the store.
He was called Wee-Wee Reggae Man for a reason - you could smell him before you saw him.
We never found out Wee-Wee Reggae Man's real name.
Whenever Wee-Wee Reggae Man had to sign any paperwork about exchanging records, he always ended up signing bits of paper with 'Wee-Wee Reggae Man' actually printed on them, since that was his official designation in the customer database!
In the next part of this series I'll be back on more familiar ground for this blog, looking at how my spell at Reckless got me back into working with computers again.