Twitter polluting Google search results for news topics
I've begun to see Twitter cropping up more and more in Google search engine results pages recently, and I can't help thinking that they aren't actually terribly good quality results.
I noticed it particularly the other day when researching my post about the difference between the Madeleine McCann and Alex Meschisvili cases.
For the search terms 'bbc news mccann', in the top three or top five results (depending on whether I was logged into Google or not) was a link to a specific Twitter re-posting via RSS of a BBC News story about the McCann family.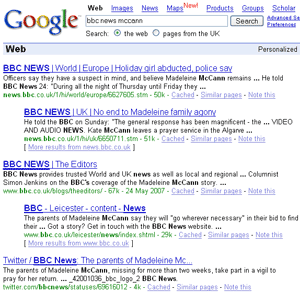 Likewise, a plain keyword search for 'bbc news' turns up an unofficial Twitter feed of BBC content in the Top Ten, and the same happens with searches for other news services like CNN or France24.
It isn't entirely clear to me how a re-badged Twitter version of the BBC News RSS output is that useful to the searcher.
Or how it is deemed more relevant than numerous other sites from the BBC (like bbcworld.com) or articles from other sources about BBC News which it outranks.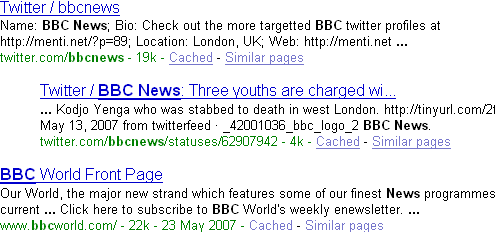 That isn't to say that I don't think it is a valid use of Twitter, or isn't a useful service to those who have subscribed to it. However, as a search result?
In part, of course, this is a function of Google's PageRank algorithm.
All the twittering about Twitter earlier this year gave the root domain a lot of inbound links, increasing the site's authority in the eyes of the search engine.
However, I can't help feeling that if you set up from scratch a site that simply regurgitated the RSS output of the major online news services, at best you'd be guilty of splogging, at worst of copyright infringement.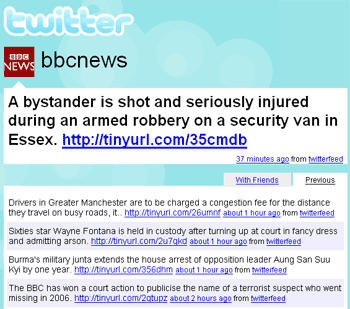 Either way, unlike Twitter it seems, you could expect pretty short shrift from Google in terms of ranking well for the brand name keywords of the service whose content you were hijacking.