Newspapers 2.0: OPML file for British newspaper RSS feeds
Over the last couple of weeks I've been looking at some of the subscriber numbers in Bloglines to the RSS feeds published by British newspapers.
Some of the feeds have been easier to find than others - as the quality of signposting on the various sites differs.
I ended up subscribed to a whopping 2,316 feeds - of which, admittedly, 1,968 were individual author feeds belonging to The Guardian's Comment Is Free.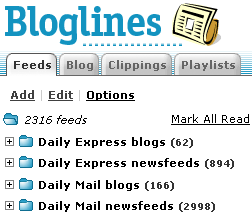 In the course of subscribing to the feeds, I produced several OPML files to help me do bulk subscriptions - for The Guardian's Comment Is Free, and for The Telegraph and The Mirror's per author blog feeds.
I've also exported from Bloglines the OPML file it generates for my entire set of subscriptions, and I thought I would make this available in two versions - one including Comment Is Free, and one not.

2,316 British newspaper news and blog RSS feeds, including The Guardian's "Comment Is Free"

348 British newspaper news and blog RSS feeds
I can't promise that these are 100% comprehensive or up-to-date beyond the beginning of May, and it only covers the eight newspapers that I surveyed in my Web 2.0 series - Daily Express, Daily Mirror, Daily Mail, Guardian, Independent, The Sun, The Telegraph and The Times.
However, if you wanted to have a look at what the British press are doing in the RSS arena, importing this OPML file would make a solid foundation.
You might also find this list of newspaper RSS feeds put together by Dave Cross useful. It covers a couple of papers like The FT and The Scotsman which are not included in my file.
The Quantum Mechanics Effect
Measuring RSS subscription figures in Bloglines is a little like quantum mechanics.
Not because it is as difficult, although I suspect doing the stats may be equally tedious. What I mean is that by making my observations, I have disturbed what I was looking at.
Since I have subscribed my secondary Bloglines account to every single one of those 2,316 RSS feeds, it means that nobody will ever see any of them looking lonely and without a single subscriber again.
Secondly it means that Bloglines will now be listing and indexing for their search all of the content published in the RSS format by the eight newspapers - which would not have been the case previously.

2,316 British newspaper news and blog RSS feeds, including The Guardian's "Comment Is Free"

348 British newspaper news and blog RSS feeds