Athens News apology for racism due in the shops today. Again.
Two of the web sites I love visiting daily are about mistakes.
The Daily WTF offers "daily posts of user-submitted examples of bad code and software design". Meanwhile Regret The Error rounds up the funniest corrections and retractions published in newspapers around the globe.
And, as the saying goes, if we don't learn from our mistakes, we are doomed to repeat them.
The Athens News is the only English language Greek-based newspaper we get in Crete, and we rely upon that, ERT's English web news service, and Kydon TV's "Crete News And Life" to understand what is going on in our new home.
The Athens News has a great feature on their back page - aside from syndicated Dilbert - which is excerpts from "Your Eyes Fourteen! A Mad Greek Dictionary". It puts Greek colloquial phrases into English and explains their origin.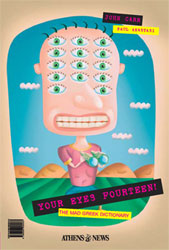 We love it, and our conversation is now peppered with obscure idioms like "Ah-ha, so these are Mrs Alexander's buttons!".
Although frankly we should probably be learning the original Greek versions.
Last year, though, the Athens News made a mistake.
They printed an offensive racist phrase in which the original Greek word used for 'black' is closer to a racial insult than a description of colour.
The description of the phrase printed by the paper and presumably given by authors John Carr and Paul Anastasi suggests that it isn't really meant in a racist way, it is just that Greeks find non-white people amusingly different.
Possibly they do, and possibly it is intended as a harmless phrase
But possibly it is a bit odd to find that a paper that seems to be aimed at Americans in Greece, and which generally swings towards the Democrats, published it without thinking.
Certainly the readers thought so last year. When it was published there was a storm of protest in the letters page, and the Athens News published an apology.
And, as I mentioned, if we don't learn from our mistakes, we are doomed to repeat them.
So, I'm looking forward to picking up my copy of the weekly Athens News today - because last week one of the items published in the same feature was...the same racist phrase.