"Launching ePresse to challenge Apple and Amazon in France" - Philippe Jannet at #TAS12
I recently spoke at WAN-IFRA's Tablet & App Summit, which formed part of the World Publishing Expo in Frankfurt. You can download all of my notes from the day in an ebook for iBooks, for Kindle or as a PDF.
After Caio Túlio Costa's talk about Brazil's newspaper industry taking on the might of Google and Apple, Philippe Jannet presented a similar story of collective commercial action in France.
"Launching ePresse to challenge Apple and Amazon in France" - Philippe Jannet
Described by host Christian Röpke as "the godfather of paid content in france", Philippe Jannet is Managing director of ePresse in France, an attempt to wrest control of distribution back from the likes of Apple, Amazon and Google.
Philippe has a long history in the industry in France, and explained that ePresse was an attempt to keep value within the industry. All of the national newspapers and many regional and local papers are now exclusively available digitally through ePresse. Well, I say all, but Le Monde has remained aloof. "Their problem, more than mine" explained Philippe.
He said that the ePresse obsession was to put the user first, stressing that they are not working for the media owners but for the customer. It is the user's comfort, choice, happiness that are important, because they are spending their money.
They haven't been afraid to borrow from their nemesis Apple however. Philippe thanked them for the lessons they had taught people in ensuring their was real convenience in the purchase path. Users can either create one ePresse ID, or sign in with a variety of social ID services, but "we don't ask for the name of your dog" Philippe said, stressing ease of use as vital to ePresse's success.
One of the principles is that the user may purchase a publication on any device, and then read it on any other one of their devices.
No co-operation with Apple allowed
Philippe Jannet was unapologetic about excluding from the platform any publication that also had a deal with Apple. "We are not just a business" he said, "we are a strategy." Accordingly, part of the deal for publishing via ePresse is that publications have to commit to giving the service ad space on all their other platforms to help drive awareness of the service.
Publishers get 80% of the sales revenue, not the iTunes standard of 70% — "We are not Apple" — and the system is very flexible in the commercial models and bundles that it supports. Philippe cast the project in the role of the small player taking on the "mechants".
One of the secrets of success was what one slide described as the "PDF + XML MIRACLE". Papers that can't afford expensive tablet or mobile optimisation development are able to sell content through ePresse that they have produced as PDFs. ePresse transforms the PDFs into XML, meaning that they are able to tailor presentation to specific screen-sizes and devices, in order to provide a better reading experience than the frustrating pinch'n'zoom-fest that PDFs can often be on the smallest screens.
In closing the session, Christian Röpke, Managing Director of Zeit Online, said he was amazed that Philippe had managed to get all of the publishers "into one boat." Similar attempts in Germany, Christian said, had struggled because of the fracture lines between rival publishers refusing to co-operate. Philippe compared the scenario to rugby. If you are alone on the rugby field, he said, you can achieve nothing. But, "if you are together, you can try to win."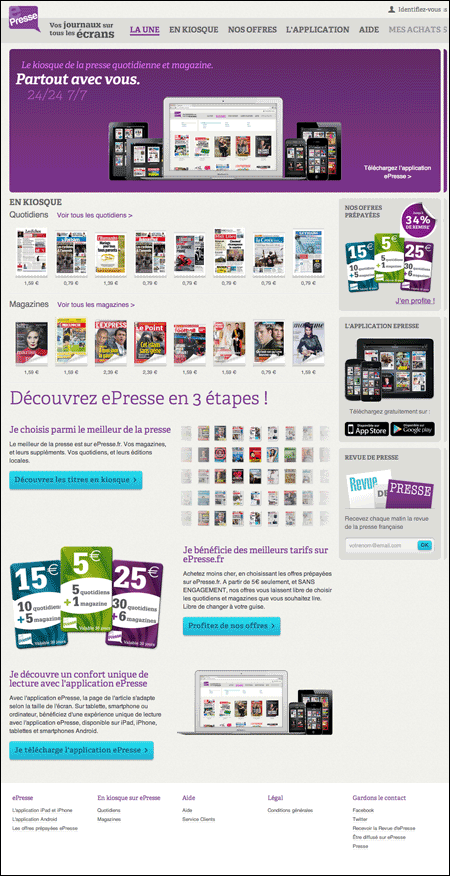 Next...
One of the most interesting cases studies in digital publishing over the last couple of years has been the Financial Times. Next up I'll have my notes from Stephen Pinches talking at the Tablet and App summit.
This is one of a series of blog posts about the WAN-IFRA Tablet & App Summit at the World Publishing Expo in Frankfurt. You can download all of my notes from the day in a free ebook for iBooks, for Kindle or as a PDF.

"The UX of publishing for tablets and smartphones" - Martin Belam
"Taking Stern magazine to the iPad" - David Heimburger
"Condé Nast place value in digital reach over digital sales" - Jamie Jouning & Jamie Bell
"Behind the curve - the media and the new App economy" - Stijn Schuermans
"Brazil's newspapers close ranks against Google and Apple" - Caio Túlio Costa
"Launching ePresse to challenge Apple and Amazon in France" - Philippe Jannet
"Optimising the FT using HTML5 and customer data" - Stephen Pinches
"Windows 8: Opportunities for publishers" - Frank Wolfram & Johan Mortelmans
"Toronto Star's Ad Lab for digital advertising innovation" - Kate Collins