"Brazil's newspapers close ranks against Google and Apple" - Caio Túlio Costa at #TAS12
I recently spoke at WAN-IFRA's Tablet & App Summit, which formed part of the World Publishing Expo in Frankfurt. You can download all of my notes from the day in an ebook for iBooks, for Kindle or as a PDF.
Two talks on the day addressed the issue of national newspaper groups coming together to challenge the established digital distribution channels of Apple, Amazon, Google and the like. The first of these case studies came from Brazil.
"Brazil's newspapers close ranks against Google and Apple" - Caio Túlio Costa
Caio Túlio Costa is a New Media consultant and advisor to the Brazilian Association of Newspapers. He has over twenty years background in journalism, including acting as a newspaper ombudsman in the 1990s.
First off he set some context for the Brazilian market. Mobile phone penetration runs at 132%. The 255m mobiles in the country works out to roughly 1.3 each. It is expected that Brazilians will buy 2.5m tablet devices this year, and print circulation in the country is rising.
Brazil vs Google News
Caio outlined a battle that the Brazilian media industry had picked with search giant Google over their Google News product. About two years ago the newspapers collectively decided to "lower their participation" in Google News, and today you'll see no major Brazilian newspaper results in Google Notícias. At first the press asked Google to restrict themselves to just "one line" snippets from their content, and, having noticed no ill-effect on traffic, went further and asked to be excluded all together.
Caio showed a graph which indicated that being excluded from Google News listings had no impact on the level of traffic driven to the news sites by regular Google search. Google still drove 17% of the traffic to a title like O Globo.
Whilst being impressed with the collective action, I did wonder whether the flat-line graph of referrals from Google meant that there was an opportunity cost to the newspapers from the exclusion. As digital take-up increases you might have expected the volume of search traffic to grow, not just stay stable. Or it may just indicate that Google News never had much of an impact in the Brazilian market. These are just quibbles though, and the Google story was merely the prelude to the main showdown — Brazil vs Apple.
Brazil vs Apple
Apple went to launch Newsstand in Brazil as they have in many markets, but they found an unreceptive audience. Having started with contacting publishers on an individual basis, eventually Apple was forced into direct negotiations with the Associação Nacional de Jornais. Apple proposed their standard terms — that they would take 30% of any sales, that they would own the customer data, but that they would "allow" the newspapers to ask subscribers if they could also have the data.
This proposal was completely unacceptable to the Brazilian newspaper industry. Aside from feeling that 30% was too high, they have a distinctive legislation issue. They are obliged under Brazilian law to invoice every subscriber at home, and so, even disregarding any point of principle, they need the customer's data. Apple argue that publishers find that between 65% and 85% of users will opt-in to sharing their data with the publication which is good enough in most territories, but that would still leave a proportion of people that couldn't be invoiced.
And it wasn't just the legislation angle. Making a point that should echo with publishers worldwide, Caio said that if there is a problem with the subscription, the customer doesn't go to Apple to fix it — they go to the publisher. And if the publisher doesn't have their details, how can they provide a decent customer service user experience?
At the moment, the situation is a stalemate. Apple have said that the 30% figure is an "international standard", and that they will not modify the opt-in process to sharing subscriber data with a publisher, although they did offer to help with promotions that would increase sales. For their part, the publishers have instead launched IBA in beta, their own national store-front for ebooks, magazines and newspapers.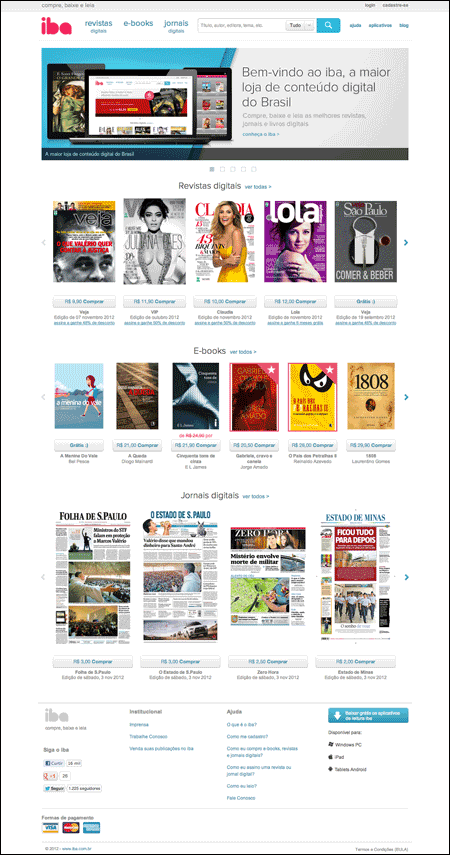 Next...
Following on from Caio Túlio Costa's talk about Brazil's news industry showing unity against the might of Google and Apple, Philippe Jannet spoke about the French effort to take back control of online media sales from the Amazons and Apples of this world. My notes from his talk will be next.
This is one of a series of blog posts about the WAN-IFRA Tablet & App Summit at the World Publishing Expo in Frankfurt. You can download all of my notes from the day in a free ebook for iBooks, for Kindle or as a PDF.

"The UX of publishing for tablets and smartphones" - Martin Belam
"Taking Stern magazine to the iPad" - David Heimburger
"Condé Nast place value in digital reach over digital sales" - Jamie Jouning & Jamie Bell
"Behind the curve - the media and the new App economy" - Stijn Schuermans
"Brazil's newspapers close ranks against Google and Apple" - Caio Túlio Costa
"Launching ePresse to challenge Apple and Amazon in France" - Philippe Jannet
"Optimising the FT using HTML5 and customer data" - Stephen Pinches
"Windows 8: Opportunities for publishers" - Frank Wolfram & Johan Mortelmans
"Toronto Star's Ad Lab for digital advertising innovation" - Kate Collins