Thinking "Beyond comment threads" at #mojo
As I blogged earlier in the week, on Saturday I was at Kings Place, not for work, but to attend the Knight-Mozilla News Innovation Jam. Once the ideas generation got underway, I ended up on a team with Nicola Hughes, Jonathan Austin, David Asfaha and my colleague - and it turned out later judge - Daithí Ó Crualaoich. We ended up pitching four ideas around the theme of community.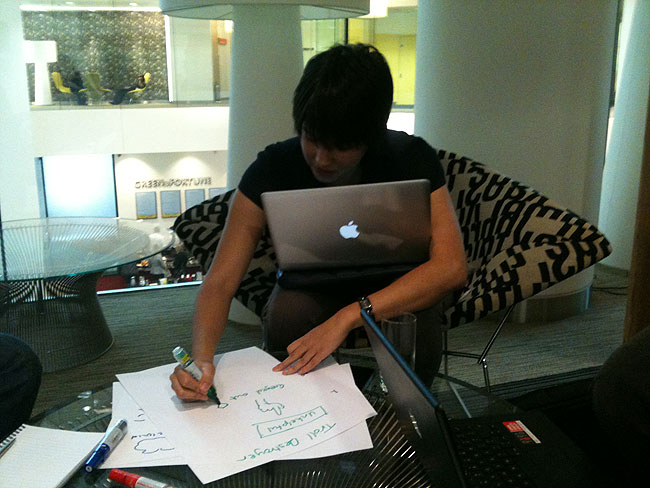 One was producing a cross-platform visualisation of the conversations that had been started by a specific news article, and then applying an "expert" filter across it - something like MentionMap crossed with Topsy/PeerIndex.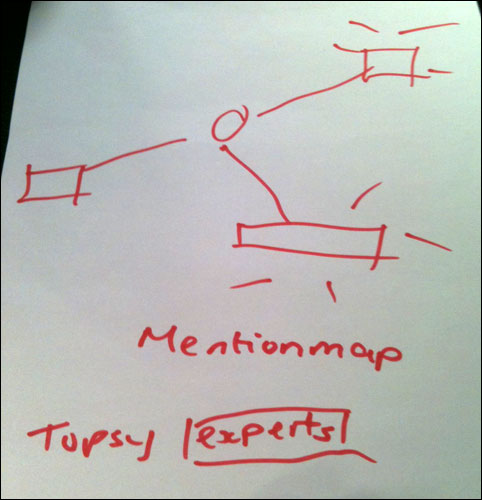 A second was visualising the words in a long comment thread to establish the general themes that had been discussed. This would allow a journalist to come back and address those themes rather than individual comments - thus evening up the current imbalance between there being one journalist and many commenters.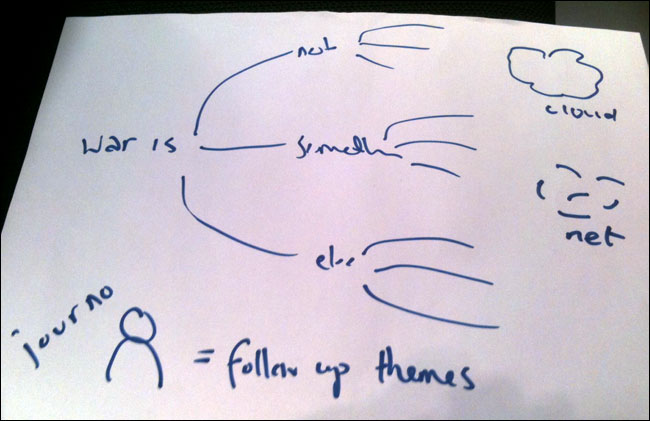 Our third pitch was "the unhelpful button". Staff at a news organisations could vote contributors down for being unhelpful or pseudo-trollish, i.e. the people who don't strictly break house rules or community standards, but relentlessly post unhelpful contributions like "is this really news?" or "I've never heard of this band so why have you reviewed them". The more "unhelpful" points a user accrues, the lighter in colour their contributions appear on the site, making it easier for users to just skip over their comments.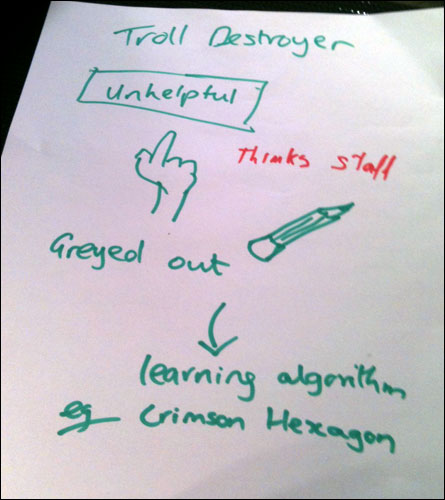 In time, machine learning could help determine the pattern of what makes up an unhelpful contribution, and automatically make it harder to read comments that aren't particularly worthwhile. Mark Surman of Mozilla was somewhat unimpressed with this on the judging panel - he thought it was rather undemocratic for the staff to wield the power in this way.
Our fourth idea ended up being dubbed "the Panopticon of news", which unfortunately sounds rather better than the idea itself. Our view was that people behave better when they are being watched, and so how could you recreate the feeling that teacher was watching you when you were in a news community.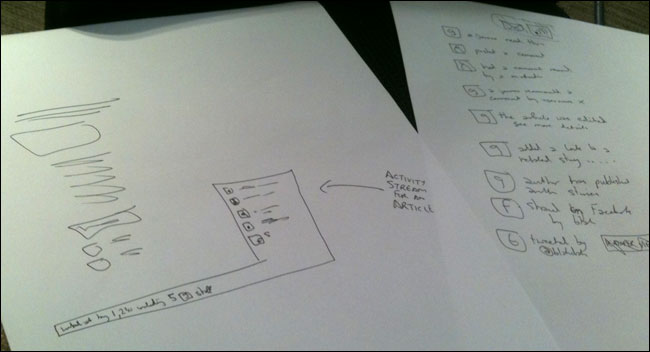 We came up with the idea of an activity stream for the article, showing both what users and staff had done with the page, and showing who was online now - a kind of Facebook chat bar for news websites. We ended up taking the idea further away from the point of improving community behaviour, and begun to wonder if journalists could use this kind of article level status update to encourage users to give them further leads and information to take a story on further.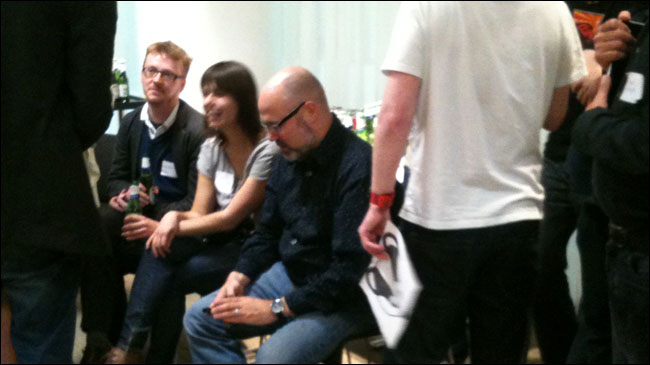 If you aren't particularly impressed with those ideas, then just be grateful we didn't fully develop the one where we were going to find your mum via Facebook and tell her when you had been naughty...
Other ideas that caught my eye...
Although somewhat bewildered as to why they needed a badger mask and to reference Lord Voldermort in their video pitch, "Project Badger" had the kernel of a good idea. It was an idea of a cross-platform way of alerting experts to conversations that would benefit from their contribution.
There was also an idea for allowing comment threads on news sites to unfold at paragraph level. This isn't a revolutionary idea, but they also added in automatic classification of the comments into those addressing specific topics within that story, so that you could really drill down to the precise conversation you wanted to take part in.
A related thought was about breaking long comment threads into separate discussions. Instead of offering threading, or topic based analysis, you could employ sentiment analysis on the comments to hive all the angry and negative comments off into their own place.
News isn't totally broken and there is innovation
I really like the aims of the Knight-Mozilla programme, and think getting one of the Fellowships would be an amazing opportunity for someone to come into a news organisation and demonstrate some different ways of thinking and working. On the other hand though, it feels like it is fair enough when I am criticising the news industry, but to have people sweep in and say "what you do is broken, let us come and help you..." can't help put make you feel on the back foot somewhat.
I was reminded of Ilicio Elia at the BBC Social Media Summit making a strong argument from the floor that news organisations were doing innovative things, and you can't judge an entire industry because some companies haven't moved with the times. I ended up working with him on our team on Saturday, but I first got acquainted with David Asfaha at the Innovation Jam when he tweeted "Hang on, this is a Knight Foundation Mozilla event. I think news companies are starting to get open source.". I was able to reply along the lines of "What, getting open source by having our own public Github repository of code?"
Perhaps we don't shout about some of the innovative things we do in the news industry loudly enough.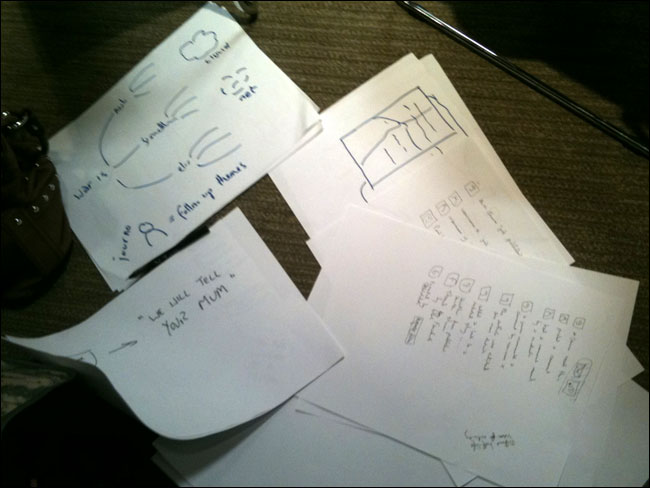 Anatomy of a comment thread
The most laughs generated on the day were when we were shown this video. Mozilla had held a similar event in Dundee the day before, and some of the students made this video of the anatomy of an internet comment thread.