A brief history of Olympic dissent: Sydney 2000
To accompany the 2008 Beijing Olympic Games I've been writing a series of posts looking at the history of politics, protest and dissent since their modern beginning in Athens in 1896. The Games celebrating a century of modern Olympiads were marred by a terrorist attack by an American anti-abortion campaigner Eric Rudolf. He killed one person in an explosion at Atlanta's Centennial Olympic Park.
The next Olympics were also marking a significant numerical milestone - the dawning of the 21st century, and they were held in Sydney, Australia.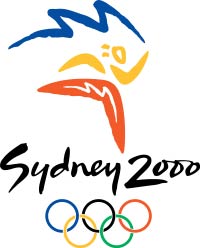 Awarding the games
Sydney won the right to host the games by beating, amongst others, this year's hosts Beijing. Beijing controversially led every round of voting except for the crucial final vote. Other bidders included Manchester, Berlin, Istanbul, Brasilia, Milan and Tashkent.

Sydney's bid document must have promised to put a couple of things right that Australia hadn't managed the previous time it hosted the Games. In 1956, the equestrian events had to be held in Stockholm, Sweden, due to quarantine regulations surrounding the horses. And, famously, the Olympic Torch Relay was hijacked by an impostor with a fake torch featuring burning underpants.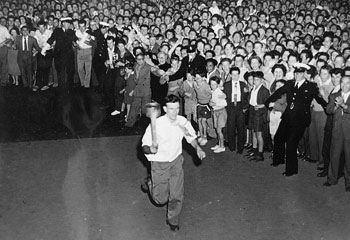 Counter terrorism efforts
After the events of Münich in 1972, and the Atlanta bombing in 1996, terrorism was identified as one of the key threats to the Games, and months before 9/11 truly bought his name to global prominence, Osama Bin Laden was fingered as the most likely threat.
"Australian authorities repeatedly say there is 'no specific threat' of terrorism against the Olympic games beginning September in Sydney, but sources in the security teams said that a judgment was made that any terrorist threat was likely to come from the Osama bin Laden-funded groups.

Osama bin Laden was publicly acknowledged as a serious concern on June 4th when Australian and international intelligence agencies reported they were alarmed at the emergence throughout South and South-East Asia of terrorist groups linked to Osama bin Laden.

The announcement coincided with separate media report in the Australian newspaper Sunday Age, that bin Laden associates were suspected of buying biological weapons from an undisclosed former Soviet State. Intelligence sources had told reporters bin Laden had purchase of deadly anthrax and plague viruses from arms dealers in Kazakhstan." - ERRI Counter-Terrorism Archive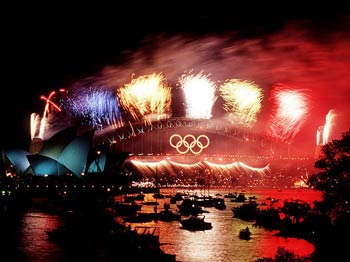 Following the attack on Atlanta in 1996, there were concerns about Australian domestic terrorism as well:
"Olympic security officials have already dealt with a number of threats leading up to the Sydney 2000 games. One of the more serious came to head on May 22nd when a 28-year-old man in Sydney was arrested in possession of explosives after making numerous threats to Olympic organizers. Authorities said the man changed his name to his idol Martin Bormann, one of Adolf Hitler's henchmen, and was described as a racist. Olympic Investigation Strike Force officials making the arrest also seized a number of racist documents at his home. Hydrochloric acid, chlorine, gasoline and fertilizer -- all major ingredients for making explosives -- were found in a bunker below his Sydney home." - ERRI Counter-Terrorism Archive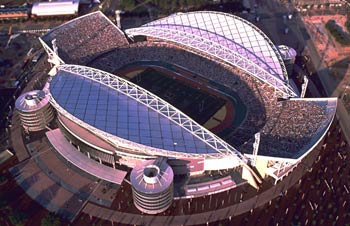 Protest groups
In advance of the Games, it was expected that their presence might generate a lot of protest in Australia. Housing in Sydney was a hot topic at the time, and there were threats to erect a tent city to embarrass the Australian Government into action.
The Disinformation archive also has some details of other protests that went on around Sydney in 2000, but which didn't make the mainstream media:
"Groups such as the Anti-Olympic Alliance, Protest 2000, and People Ingeniously Subverting the Sydney Olympic Farce have been documenting the questionable business deals, environmental policy shortfalls, global 'selling' of indigenous Aboriginal culture, and last-minute legislation. Remember the street crackdown provisions of the Homebush Bay Area Act?

Branded 'un-Australian' during Melbourne's S11 protests, despite a long national history of subversive rebels, Cat@lyst, Sydney Indymedia, and Sydney Alternative Media Center activists have documented peaceful and non-violent anti-Olympics protests that would otherwise have ended up on the cutting-room floor.

Dissent is swelling in Australia, but you wouldn't hear about it from CNN. Discover what NBC doesn't want you to know about, and Salon.com correspondents haven't uncovered yet. 'The Dream' is fast turning into an Olympics nightmare."
However, perhaps the reason so little protest transpired at the event was because the Australian Government had done so much to legislate against. With a hundred years of Olympic protest and dissent to serve as a role model for the kinds of things likely to happen at the Games, host nations have begun to take pre-emptive strikes. As Chris Cunneen, a Professor at the University of Sydney Law School, put it:
"The raft of legislation which has been introduced during the lead-up to the Sydney 2000 Olympics achieves four things: it significantly infringes basic democratic rights of public protest, and freedom of movement and assembly; it dramatically increases the power of police and security guards in many of the most important public places in Sydney; it introduces wide ranging public order offences without safeguards or accountability against the abuse of power; and it has a legislative life-span well beyond the period in which the Olympics and Paralympics are scheduled to take place."
Media rights
One of the biggest controversies was about media rights. In a move that would, I believe, be not only completely unsustainable but laughable today, American television network NBC and the Olympic organisers wanted a worldwide ban on video clips from the Games being shown on the web, until the delayed coverage had been shown in America's prime time TV slots.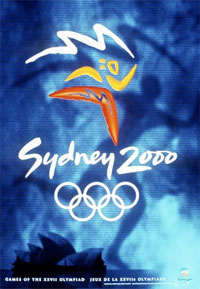 Next...
In 2004, the Olympics returned to their spiritual home of Greece, to be held for the second time in Athens. Well, the third time if you count the 1906 Intercalated Games, which the IOC doesn't, but I do. It seems that most of the controversy, politics and dissent emerged after the Games had been long finished...