Apple iPhone hits Greece ahead of the O2 deal in the UK
Everyone might be waiting for tomorrow with baited breath as Apple finally announce that the iPhone will be available in the UK, but Greece has got there first.
Yep, apparently mum is already no longer the word in Heraklion (just a couple of hours down the road from where I live) and in Volos
Sugarenia has blogged a Greek advert for the iPhone from their local store - at an eye-watering €749.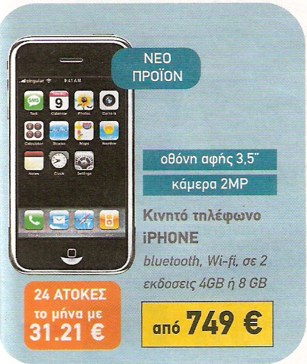 Meanwhile, jimeh has a picture uploaded to Flickr of him playing with the real thing in Volos .