The Ashes Come Home On The BBC Homepage
Throughout the course of the final Ashes Test Match the BBC homepage has been experimenting with importing the cricket coverage from BBC Sport into the main promotional space. The usual approach for an event like this is to pick one image treatment, choose five links, and run with it for the course of an event.

Whilst this works fine building up to the 90 minutes of a football match, it doesn't really do the trick for a five-day game. Using an adapted version of our "Big Red Button" for putting News onto the homepage, we've been pulling in the top story from the news feed. This has meant not just the text, but the imagery has been updating throughout the course of the match - on the last day for example the early morning focus on the attacking bowling of the Australian line-up, particularly Warne who was again amazing in this series, gave way to the immense and vital Pieterson innings for England.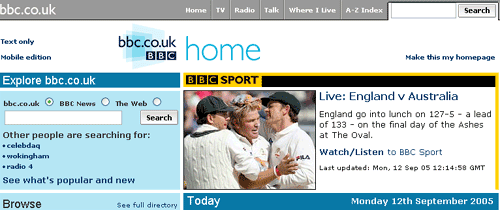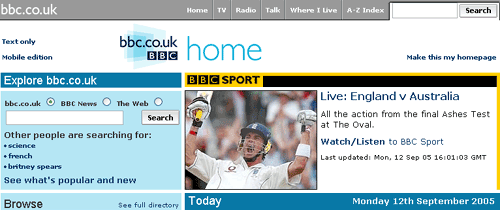 We've tried to pick up some feedback about whether the audience liked, disliked or even noticed this change through our messagboards, both on Points Of View and Test Match Special - but as usual this haven't proved to be the most forthcoming place to ask these sorts of questions. I'm looking forward to seeing what is in our homepage postbag later this week.
At the close of play and the end of an historic series, we put up a special version of the page using a combination of tricks we have at our disposal for altering the layout - the 'jumbo promo', a 'semi-permanent panel' underneath the promo, and for the first time, a variation on the BBC.co.uk home banner designed by top colleague and mate eyedropper - see his post on the whole Ashes extravaganza.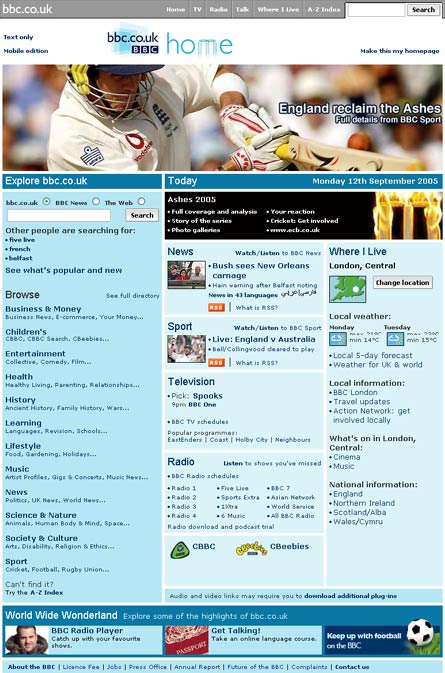 Again we've asked for feedback from the audience via the message boards, and will be looking at our mail very closely to gauge the audience reaction.