I'll miss the hacks, but not the tiresome DRM debates - the end of BBC Backstage
There is plenty of nostalgia around at the moment for BBC Backstage, which is closing after five years. Jemima Kiss has a retrospective piece on the Guardian's PDA blog and Ben Metcalfe has a brief reminiscence on his blog.
I blogged about the launch in May 2005, quoting the Governors Response to the 2004 review of bbc.co.uk, which promised that:
The BBC will support social innovation by encouraging users' efforts to build sites and projects that meet their needs and those of their communities...This is exemplified through plans for Backstage, a public site for the BBC's in-house development teams to share development plans with their peers and audiences. In a similar way to Google's Labs test-site, this will be a place to demonstrate work in progress, share expertise and invite contributions and collaboration with expert users. The BBC will also be committed to using open standards that will enable users to find and repurpose BBC content in more flexible ways
It was a laudable aim, and the site launched with some prototypes built by internal people who had been given early access to some of the feeds. I contributed two efforts. "Where is the BBC News?" crudely parsed news headlines for country names, and made the countries currently being mentioned light up on a map, and the BBC Complaints RSS feed, which as I mentioned yesterday, was an effort at screen-scraping to produce content in a format that the BBC should have been publishing anyway. The public launch was at Open Tech 2005, where it understandably over-shadowed my simultaneous talk on "Putting a F__k Off Dalek on the BBC Homepage isn't big or clever"
Backstage spawned a flurry of early hacks, including a podcast of BBC News content being read out by a Dalek-sounding computer voice, which zoomed to the top of the then feldgling iTunes podcast chart.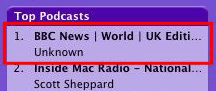 The editor of BBC News Online, Pete Clifton, was moved to comment:
"It's one of the quirkier products of the BBC's new Backstage project, where people with enormous brains, mad haircuts and pale complexions do extraordinary, innovative and often frightening things with our content."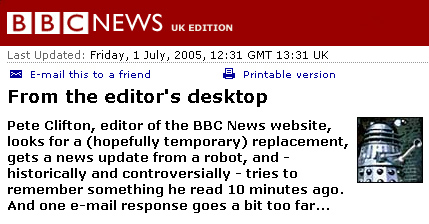 One thing not being mentioned in the eulogies for the service, however, is how toxic the mailing list became during the tedious years when the BBC was accused of devilry by implementing DRM on the Windows-only early download version of iPlayer. In the end it drove me to unsubscribe, fed up of being inulted for daring to suggest that in the short term, DRM was the only thing that was going to give rights holders the confidence to enable any content to be released at all.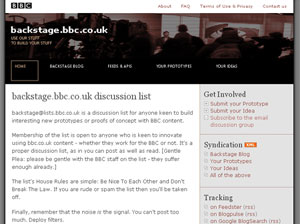 As I said back in 2005 though, I was pleased that the yay-sayers overcame the nay-sayers to launch Backstage, which really was quite a shock to some of the closed 'old media' thinking within the BBC at the time. I'm glad that I got a chance to work with people like Ben Metcalfe, Matt Cashmore, Ian Forrester and Rain Ashford, and I wish Ian and Rain all the best with what they go on to do next.