No more 'us and them': Part 2 - Participatory journalism
How 20 years of digital communications smashed the boundaries between media and audience
In yesterday's part one of this series, I finished by quoting Clay Shirky, talking about how 'the shock of inclusion' means that:
"the former audience is becoming increasingly intertwined with all aspects of news, as sources who can go public on their own, as groups that can both create and comb through data in ways the professionals can't, as disseminators and syndicators and users of the news. This shock of inclusion is coming from the outside in." - Clay Shirky: "The Shock of Inclusion and New Roles for News in the Fabric of Society"
However at the Guardian we have been demonstrating how this change doesn't have to be driven from the outside, but can be championed in a way that 'mutualises' our journalism.
For example, 'The Blair Mystery' was an attempt to unravel the byzantine financial affairs of the British ex-Prime Minister. Within the building we knew we didn't have the forensic accounting skills required to unpick the finer details, but we also knew that somebody in our audience would have the expertise and motivation to attempt it, if we published the documents.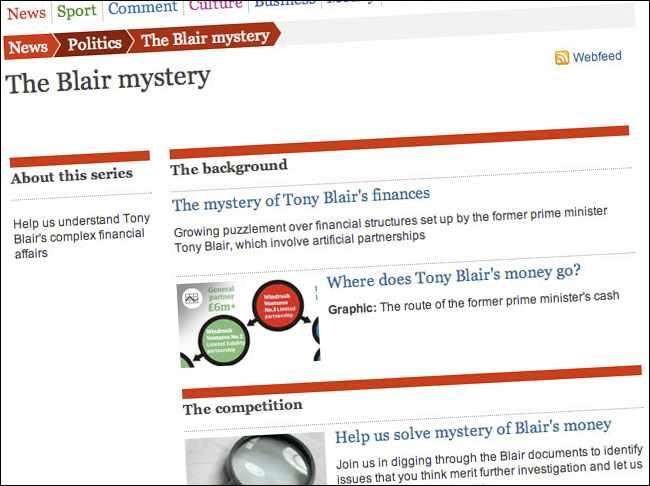 Similarly we used our audience to scrutinise the documents about MPs Expenses that were released to the public. They covered the ground much faster than our journalists could alone. In a second iteration we included more 'game-like' features, breaking the documents down into smaller tasks. This meant that the readers participating could really see the progress they were making in getting the task done.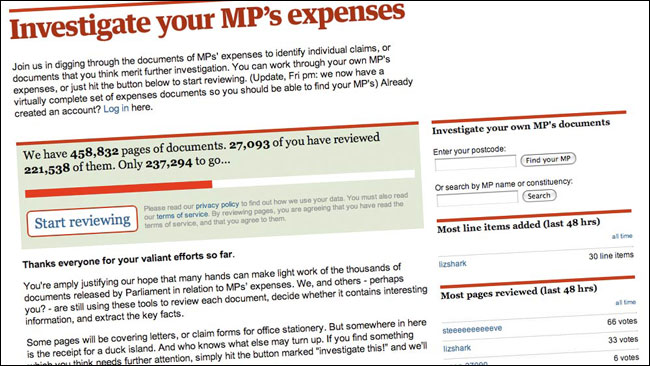 In another exercise, we also 'crowd-sourced' solutions to the ecological disaster caused by the BP oil spill in the Gulf of Mexico. That isn't as glib as it at first sounds. A vast majority of the submissions came from people who were experienced in drilling or in the oil industry, and it gave our team a real insight into how fellow professionals felt BP were handling the crisis.
Comments on news wesbites
One of the obvious manifestations of this new communications landscape is the appearance of comments from readers underneath articles on a wide range of news sites. It was once the case that to reply to a newspaper article you had to put pen to paper, and post your missive off to the paper's office. Then you might be picked out of the post bag to appear in the 'Letters to the editor' page, where your response would not only be divorced from the article it was about, but from the entire edition that the original had appeared in.
I have to be honest, and say that your mileage may vary with comments underneath newspaper articles. There isn't much added to a news article by having "I can't believe you get paid to write this" underneath it, and Marina Hyde once artfully put down those users who post comments professing the subject of an article is of no interest to them:
"As for those 'never heard of him' comments, I must say I do always rather wonder after the point of people who regard that type of statement as any kind of comment at all. Thank heavens it never happens on the Sportblog - we could probably all live without people logging in to post comments like 'Kaka - never heard of him' or 'who is Arsene Wenger?' in the mistaken belief that they're being arch."
Several organisations have wrestled with how to improve the quality of news discourse. In the States, the Sun Chronicle started charging people a dollar for the privilege of leaving a comment. The Independent moved to insisting users stick to real identities from other social services, and Sky News have given up on their message boards all together.
But I think user comments add something special to news sites, and I miss them when they are not there.
And they can help develop a story. Paul Bradshaw noted that with data-driven stories, contributions in the comments can improve the way that statistics are interpreted and the numbers visualised. At a recent Guardian event about datajournalism, David McCandless said that a legion of 'angry people on the internet' keep him honest.
And they can add powerful anecdotes that help an argument to resonate.
Whenever people tell me that debate on news sites would be improved if people were forced to use real names, I direct them to this comment:
"I was raped by someone with a rich powerful politically connected relative and I was terrified to report for fear of it getting into the papers and being accused of slandering the family. It took 3 months to pluck up the courage to do so, by which time the forensic evidence was gone. Despite my attacker confessing multiple attacks to me, he wasn't even formally questioned and remains free to attack at will, no doubt bolstered by the feeling of 'having got away with it'. If I had been confident that the details wouldn't have got into the press, I would have reported immediately and who knows? He might have been punished and I would have been saved some of the extra stress and fear I suffered."
Gherkingirl added powerful personal testimony to the debate on anonymity around rape accusations in a way that would never have happened if we'd insisted on linking it to her Facebook account.
The discussions underneath news articles can sometimes not be for the faint-hearted. In the next part of this series I'll look at how the Guardian has openly discussed moderation, and has public policies for journalists engaging in replying to comments and publishing 'social media'.