Follow-up journalism? Timeless journalism? It is the tyranny of chronology that gets in the way...
Megan Garber
at The Nieman Journalism Lab stirred up some discussion at the end of last week with her post about "
Wikileaks and follow-up journalism
". She was talking about whether the frantic pace of the 24 hours news cycle was always the most appropriate speed at which to report and publish on issues. In the comments
Matt Thompson
pointed to an article he'd written in 2007 talking about digital media enabling "
timeless journalism
", and
Megan has responded
.
All of this made me re-read my presentation from last year's News Innovation Unconference in London - "The tyranny of chronology"
In it, I argued that our concept of reporting news in strict chronological order hadn't changed significantly since the days of the Anglo-Saxon Chronicle - and perhaps from even before then if you follow this timeline of timelines.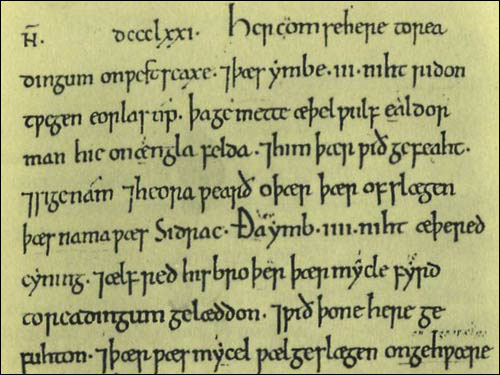 What concerned me was that despite the acres and acres of coverage on a topic like climate change churned out by the news industry around the globe over the last few years, schoolchildren inevitably head to Wikipedia to get a quick summary for their homework. Somehow we don't manage to synthesize our news content into those bitesize chunks, instead relying on the reader to supply their own background knowledge and context to a constant stream of quick wrap-ups of the previous 24 hours.
Or increasingly, with the live blogging and tweeting of news on the web, the previous 2.4 minutes.
In the talk I suggested that we needed better metadata - both editorially added and automatically derived - in order to provide the right news atoms for the 21st century, and needed to champion the use of journalism centred design for our publishing systems and workflows.
You can download the essay version of "The tyranny of chronology" as a single PDF, read it in 5 parts online starting here, or watch some video of me presenting it from YouTube: Part 1 | Part 2 | Part 3.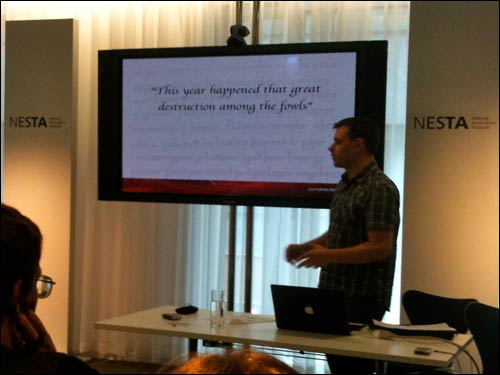 Photograph of Martin Belam at 'News Innovation' July 2009 by Adam Tinworth