Could the BBC News redesign be the saviour of newspapers?
As with every major overhaul of a popular website, the BBC has been facing a barrage of criticism on the new look BBC News site. Users are furious that the BBC has changed the website that they hated when it first appeared.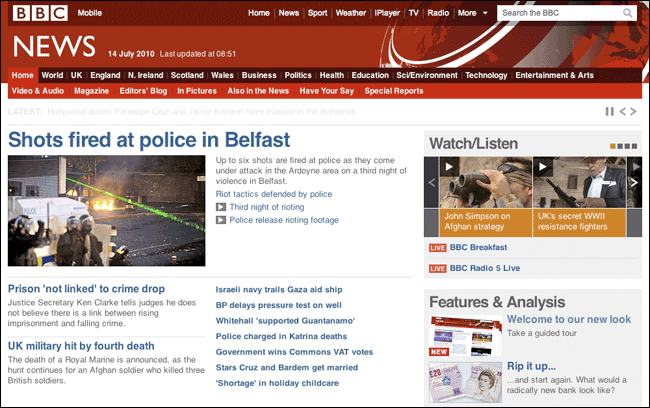 But I'm picking up something interesting in amongst the comments - could it be that the BBC News redesign is the saviour of the newspaper industry, and not the iPad / apptop / paywall etc etc as previously thought?
"Day 2 of trying to use this new site has left me feeling ill and thoroughly grumpy & bad-tempered at work. I rely on the BBC news site to keep me sane at my desk and now it's simply adding to the workplace stress here. If we don't get old site back - perhaps as an alternative to the new one - then I'm seriously considering buying a daily newspaper again, something I have not done since the late nineties. "
Thursday's blog post about the redesign also featured a comment from Norman30, who said "The BBC news website, the best thing to happen to newspapers since the invention of the printing press."
In the latest of Steve Herrmann's blog posts about the changes, Pseudo_John_Savage wrote:
"Oh what bliss. I'm finally cured of my addiction to the BBC News pages. I think it is called aversion therapy - but it has worked for me without any cold turkey side effects. That is not tongue in cheek - the days suddenly have so much more time for other things. The headline news comes from the online Guardian - and their feature articles are interesting too. Definitely time to start buying real newspapers again to read at my leisure in the sunlit garden."
"This is not simply an issue of people not liking change. The website looks like a first attempt at web design by a 5th stream ICT student. Poor font choice, jagged text on the larger headlines, and appalling sense of colour; red 'Sun' top (unbelievably tacky), mustard side panels, blue panels, black panels, black text, grey text, pink text, white text. It looks like a botched attempt to rearrange a plate of vomit into something meaningful. I'll be buying a newspaper from now on."
We'll probably never be able to prove this drastic intervention into the marketplace though - I can guarantee that whatever changes have happened to print circulation or online newspaper visitor numbers in the last month will be exclusively put down to The Times' paywall ;-)