Windows 7 overtakes Linux usage on guardian.co.uk in just 4 days
On Sunday 25th October, just 4 days after release, for the first time The Guardian saw more computers using Windows 7 than computers using Linux to access guardian.co.uk.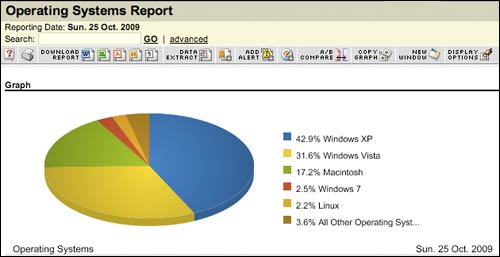 Now, weekends do see a different pattern of usage on the site. We usually expect to see weekday visits roughly break down as XP 55%, Vista 23.4%, Mac 14% and Linux 1.8%. With less people in an office environment on a Saturday and Sunday, XP share drops to around 43%. Vista (31%), Macs (17.3%) and Linux (2.3%) are the main beneficiaries of more varied OS use in the home. On Sunday 25th, Windows 7 usage stood at 2.5%, and Linux usage 2.2%.
At the moment, on a regular weekday, a week after the Microsoft launch, we are seeing Linux and Windows 7 computers visit The Guardian in roughly equal proportions. It will be interesting to see how this develops, and whether the mainstream media coverage that the new Ubuntu release is attracting will help give desktop Linux a boost.
The usual caveats to these sort of figures apply.
They are not officially audited figures from Guardian News & Media. You can find coverage of our official ABCe stats on the Media Guardian site.
Web analytics packages can only report what they are told. If you are one of those Linux advocates who believes true usage figures are much higher, and that n% of the world's desktops are Linux machines masquerading as Windows in order to access those increasingly rare websites that don't function in Firefox, this article is not for you.
I'm not a fanboy of any particular OS. In my house we happily run computers using Windows and Linux, and I usually work on a MacBook. Computers are tools. Use the right tool for the task in hand.