"And on the seventh day..." - Sunday newspaper branding highlighted at Summer Sundae
The chatter seems to have died a bit, but if you have any interest in the British news industry you'll know that there has been a lot of speculation about the future of The Observer, one of the papers published by Guardian News & Media where I work - and I should add that the following strictly reflects my own personal view.
When I was at the Summer Sundae Festival in Leicester the other weekend, there was a stand sponsored by The Guardian and The Observer, selling the papers.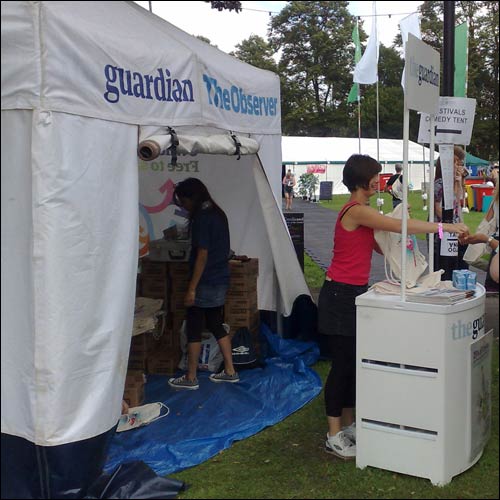 On each day, when you bought the paper - which I did and I didn't get a staff discount either - you got a free gift in a promotional bag. On the second day this included a pair of flip-flops. You can insert your own punchline here about flip-flopping editorial views, or the fact that the set consisted of one left foot and one far left foot - my friends certainly did all day.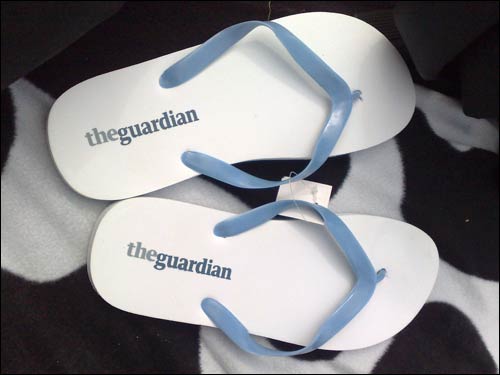 Buying the paper on the Sunday though neatly illustrated for me one of the problems of having the split Guardian/Observer brands in print. Within the newspaper industry and news media at large there is a lot of equity in The Observer being the name of the oldest Sunday newspaper. But unless you know that The Observer and The Guardian are owned by the same umbrella company, at Summer Sundae it just looked like a copy of newspaper x had been delivered by mistake with a load of free gifts branded newspaper y.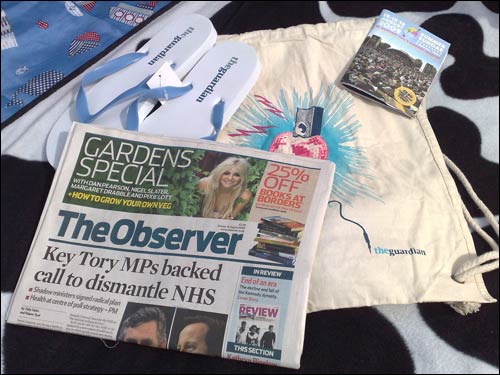 Guardian News & Media aren't alone in this of course. You don't buy the Daily Mail on Sunday, you buy 'The Mail on Sunday'. Likewise The Times morphs into The Sunday Times. In fact, even The Sun, whose love of puntastic headlines would surely see publishing The Sun on a Sunday as a huge opportunity for sub-editing mirth, instead has a sister paper with a different title.
One of our golden rules of information architecture on the web is to never let your navigation and labelling be dominated by your organisational structure. It seems to me that this is exactly what happens with these special Sunday titles. Of course it is different teams, with different shift patterns and a different array of regular features and columns on a Sunday. But you can usually find something in a newspaper offering that regularly appears on a Tuesday or a Thursday, and nobody calls it "The Tuesday Express".
I can't help thinking that I've never read a marketing or branding manual that mentions the commandment: "And on the seventh day, thou shalt call thy product by a different name..."