Reactions to The Guardian's new mobile site
Last week The Guardian launched a new bespoke mobile version of our website at m.guardian.co.uk. During the same week It was interesting to see that there was still some life left in the should-you-or-shouldn't-you have a specific mobile facing presence.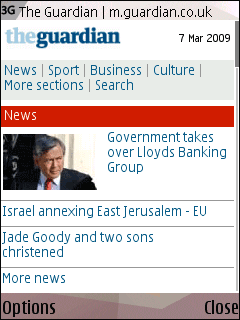 Jakob Nielsen still very much thinks you should.
"Mobile phone users struggle mightily to use websites, even on high-end devices. To solve the problems, websites should provide special mobile versions."
Bruce Lawson over at ZDnet disagreed:
"He's wrong. Making two or even three mediocre sites, designing and user-testing them, then trying to keep them in sync is a waste of time and money. Concentrate on preserving the 'One Web': that is, make one really good site that works across all devices."
I have to say that I still, at the moment, tend to be in Jakob's camp. I think there are good reasons to have a platform neutral data architecture, but to present it in very different ways on different devices. Mobile phones and desktop computers have totally different contexts of use, displays and input mechanisms.
Despite the industry love affair with the iPhone, there are plenty of Internet enabled devices that struggle with putting big screen oriented websites on the small screen. This occurs even when the content itself isn't complicated, and it is simply the design and technical implementation getting in the way.
The reaction I saw to the m.guardian.co.uk site across the blog'n'tweetosphere seemed broadly positive.
BadlyDrawnToy was pleased by the fact that they no longer had to use the full-fat version of the site which keep breaking their phone.
"The regular website proves (to me) that you can pinch and zoom a page as much as you like, but it ain't easy to read and navigate on a mobile phone. It also showed how flaky Safari is on the iPhone - wait ages for a page to load only for the Javascript to cause the browser to commit suicide."
A lot of people obviously have low expectations of newspaper new media projects, and on Twitter, Kerin posted:
"m.guardian.co.uk in not complete shit shocker."
Micycle was looking for more personalisation:
"Liking new mobile guardian at m.guardian.co.uk (except - how do I lose sport?)"
Not everybody has been impressed, especially one of the regular commenters on the paper's media section - Phazer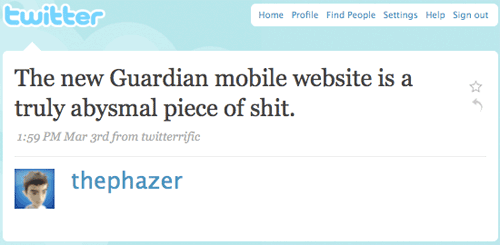 But some people seemed very happy to share their joy on Twitter.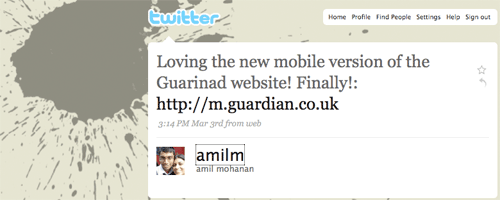 I'm very much an 'eat-your-own-dog-food' kind of guy, so I've set it as the homepage on my N95 to see how I get on with it. Although the technical delivery of the project was done out-of-house, the fact that there is now a specific mobile portal for Guardian content will impact on nearly all of the IA work that I do on emerging products. [1]
I've also bookmarked a few of the pages that I think will be most interesting on the move, including the decision to give the 'Most read' list its own mobile homepage. I think it seems like a useful way of presenting the most interesting stories across a range of genres, in one easy to digest mobile page.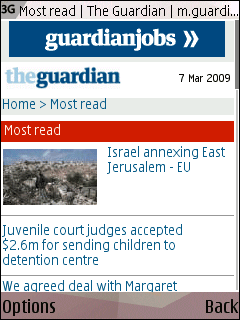 [1] I didn't work on the project, but according to the press blurb: 'Development partners include marketing firm Bluestar Mobile, while technical platforms were built by Mobile IQ, Momac and Roundpoint and mobile data specialists Win'. [Return to article]