"So one Guardian API later and I've got hyper-national advertising to elegantly mix with my addiply hyper-local advertising and I've got hyper-national and local syndication deals as we merrily 'data' swap with content partners both sideways and upwards. Job done". Thoughts on what a two-way API and revenue model could do for the diminishing local reporting on local lower league football.

"I had a somewhat surreal day working for Press Gazette yesterday which took me from the brave new media world to the reality of what is facing regional newspapers, all within the same company."

"Here is the first picture of the K9 model that features in the spin-off series currently being filmed in Australia". Still not a patch on the red lego version of K9 that I built myself as a child ;-)

"McCann told MPs that it became a cause for concern that he was in dispute with Express Newspapers when the Express editor Peter Hill was sitting on the board of the press watchdog. Hill subsequently left the PCC board. 'I did think it was surprising that the editor of the paper that had so flagrantly libelled us could be a representative of the PCC,' McCann said".

More great stuff on POV. The host posts something that people have been asking for - clarification on what is considered off topic on the TV board. Post two says "no-one is under any illusion it will make any difference". Post three calls it censorship and blames Nick Reynolds. Post 6 decides it is all just a BBC conspiracy to promote "beastly blogs" anyway.

"These principles are based on a looser set which has existed for a couple of years (and can still be found on Tom Loosemore's blog) but I have tightened them up". All smart points.

David is on Twitter himself, and quite right in this blog post, because, frankly, if telegram, telex and fax are good enough to get in touch with my tips and neighbours, why should I consider using anything else? More seriously, he cites the fact that by using Facebook he can reach a couple of thousand of local people, but that he's only found about 3 on Twitter. I'd counter that at one point, that Facebook group *also* only had 3 members.

That Rachel Sylvester Twitter article from The Times.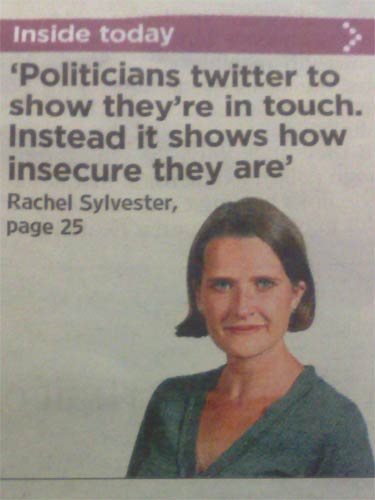 "But what's really wrong with the piece is the idea that politicians shouldn't move with the time. I don't send telegrams. My campaign team has no carrier pigeons. I hardly ever use a classical reference in my speeches. And that's because I'm not a Victorian politician. Times change. The public changes. Today - 2009 - many of my constituents and other people are on Twitter - and so it makes sense for me to be too. If that's how they choose to get information, it's not a lack of identity that makes me honour those choices - it's respect for the public". I read my MPs comments after seeing her tweet about it and use the amusing URL

http://tinyurl.com/wrongwrongwrong

to link to her blog post.