"An Open BBC?" at Broadcasting House
With my posts over the couple the last couple of days about The Guardian's Open Platform and m.guardian.co.uk, you could be forgiven for thinking that it was going to be wall-to-wall Guardian on currybetdotnet from now on. However, on Tuesday night I was back at one of my old stomping grounds, the BBC, for the event wrapping up Steve Bowbrick's time as the BBC's "open blogger".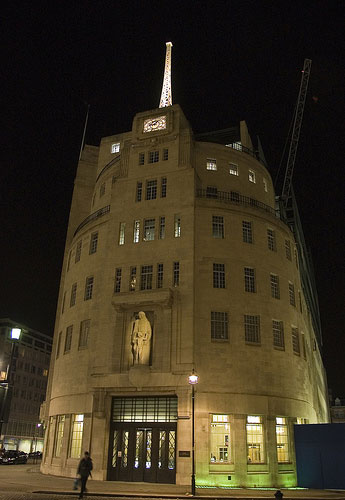 Although, to be fair, Emily Bell was on the panel, so there is still a Guardian angle to it...
Highlights for me:
Someone in the audience suggesting that the triumphant figure that it only took £175 to clear the rights to re-use a Panorama programme for educational use would have taken more than £175 to calculate.
Steve's view that anyone who starts their argument "I've paid for it with my Licence Fee therefore, regardless of any other consideration, it should be free for everyone for perpetuity" was actually inflicting some kind of heat-death on the creative industry of the UK.
Tony Ageh suggesting that in the BBC, people could either say 'no' or 'not no', but no single person could ever say 'yes' to something and ensure it happened. I like to think that for my teams, when I was at the BBC, I was mostly a 'not no' person.
The answer to a question from Ian Douglas: "Did you think there were any meetings or discussions you were excluded from?" being "I don't know, I wasn't invited to them". Steve seemed to have met a lot, but not all, of the senior figures at the BBC, but there was certainly a suggestion that some areas were much more willing to engage with the idea than others. He also spoke quite candidly about some senior figures seeing their role as protecting the earnings of 'talent' and commissioned production companies.
The suggestion that the BBC's Future Media & Technology department should be renamed 'Media', and all the others be forced to adopt names likes 'Old Media' and 'Dead Media'.
Watching interest grow on Twitter via the #openbbc hash-tag, and finding a few new people to follow/be followed. But still failing to meet @robertbrook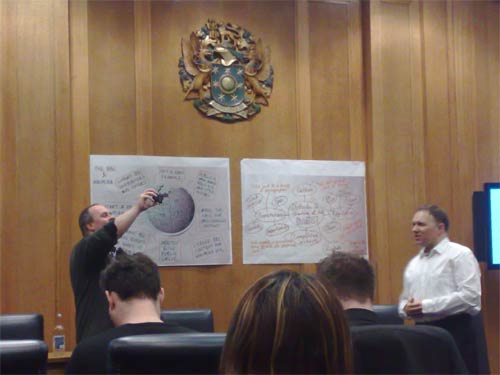 There was quite a bit of debate around whether, in terms of being 'open', EastEnders should be treated in the same way as source code, and a question fired in from Tom Dolan via Twitter suggested that using the guise of 'open' to break 'the fourth wall' damaged entertainment and comedy. Nick Reynolds was also concerned that for the viewer who just enjoyed watching EastEnders, what did all of this "open" actually deliver in value? Emily Bell suggested that programmes and source code were pretty much the same thing, as why shouldn't a Wendy Richards tribute site be able to carry clips of their favourite Pauline Fowler moments, just as much as a programmer should get to use the Glow javascript library.
It was also interesting to be at this BBC event on the same day that The Guardian had launched 'Open Platform'. And not just because I got to top'n'tail my day with events that made it look like I'd started stalking Emily. Steve Bowbrick was concerned that investment in the BBC's equivalent, backstage.bbc.co.uk had stalled. Tom Loosemore had wondered something similar aloud the same day:
"Thinking that Guardian's Open Platform is what BBC Backstage could and should have become" - @tomskitomski
My hunch is that backstage.bbc.co.uk has sponsored a lot of events, fostered a lot of discussion, and done a lot of good work within the BBC to sell the idea of being open in concept. However, I think that at a single stroke on Tuesday, The Guardian effectively released more easily addressable content.
Yet again though, I have a Broadcasting House wifi confession to make. I was also at the event that kicked this whole episode off - the 'Common Platform' Techcrunch UK meet-up. Then I was chastised for secretly watching Euro2008 via Zattoo at the back of the class. This time it was Liverpool vs Real Madrid.