The BBC's "Points Of View" online culture clash - Part 1
I've been watching with interest the way that the BBC has been trying to discuss future developments for their interactive online services like blogs and messageboards in an open way. However, rather than make the process smoother, they have managed to get the collective back of the Points Of View messageboard up, and Jemima Kiss picked up on the story in the Guardian.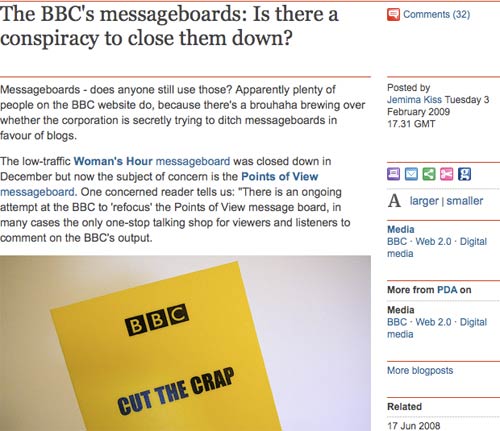 Seeing how events then unfolded is a very interesting study in group dynamics online. A BBC Points Of View messageboard user read Jemima's piece, and the board went on to interpret her editorialising as direct quotes of the views of Nick Reynolds, the BBC Internet Blog editor.
"I can recognise the concerns from users, especially if they have built up a community of fellow regulars on a format that works for them. But I can't help feeling that longer term, messageboards have too little structure to easily invite newer users, are complex to browse and don't have the topicality of chronologically organised blogs. Aren't they just a legacy format, headed the same way as betamax? It's not that blogs are the perfect answer, but that answer is probably a combination of many things far more open and distributable than messageboards. For that reason, I also think users are far more likely to have their voices heard on a good, readable, well-focused blog that has contributions from more senior production staff. Isn't that the point?"
Within the space of a few minutes the board had erupted, and Nick was accused of all manner of things:
"That Guardian article reveals your true feelings. It also reveals that you have not appreciated the fundamentals of our arguments."

"Saying one thing and doing another is my impression. Yes it does make the heart sink."

"I just will not believe a word that man spouts now!"

"The only way you're going to regain any part of our trust, Nick, is to somehow convince us that you did not say what the article says you did."
He came on the board later to point out that the words in question belonged to Jemima Kiss, not him. Almost the first response to that was:
"So Nick... these words are NOT yours - is that correct? How come you didn't correct our reasonable assumption that they were?"
Look at that in the abstract for a moment.
Someone saw a quote from a named employee of an organisation on the website of a national newspaper, and then posted onto a messageboard of that same organisation a misinterpretation of who had said what. Within a couple of hours that named employee came on the board and pointed out the error - and they were indignantly asked why they hadn't done it sooner.
I'm beginning to see here a pattern of behaviour which is like a customer service version of Loosemore's Law. The quicker we are able to submit feedback to an organisation, the less patient we are with the response time.
The current bunch of users of POV have worked themselves into a frenzy, believing that the BBC has already decided to close the board down in favour of blogs, a form of online communication to which they seem implacably opposed.
I must say that, nice chap as I know him to be, Nick Reynolds made a tactical error up-front by first trying to engage in a discussion about the future of the board back in November away from Points Of View itself. More than anything, that seems to have got them outraged.
"Very simple. Don't take us over to the blog area any more. Post to the Messageboards and talk to us ON THE MESSAGEBOARDS. Stop using links to blogs (you have no idea how much that is winding people up). Stop talking about blogs and bloggers." - niclaramartin
"When we visit BBC we are NOT bloggers. We are messageboarders." - niclaramartin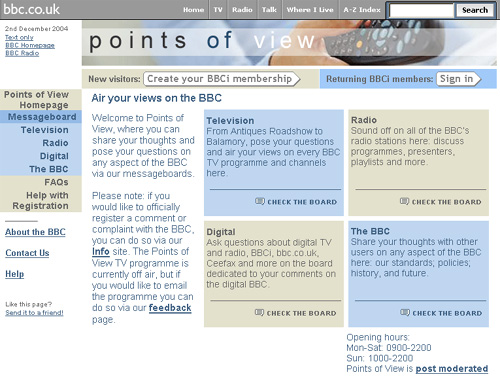 It is a fascinating online cultural smash, but, the fundamental problem still for me seems to be that just because the BBC can do a board dedicated to general chit-chat about TV, should it? It has never really been clear to me what the POV users get on bbc.co.uk that they couldn't get on the message boards at Digital Spy or UK Nova.
Tomorrow I'll be posting a bit more about my experiences of hosting the board in 2004 and 2005, and why I don't think it is the best forum for the BBC to interact with their audiences.